A few weeks ago we talked about the price of ground beef. If you haven't read through the comments yet on that post, you need to. I really enjoyed reading through them to see what you all pay for ground beef. Rising grocery prices are something we all understand.
Many of you mentioned that you often use ground turkey or ground chicken in place of ground beef in your recipes. I agree that those are great alternatives to ground beef.
When it comes to recipes and cuts of meat you can't always substitute one cut for another. Sometimes it works, but not always. When it comes to ground meat through it is easy to substitute other kinds of ground meat. This helps stretch the grocery budget because you can buy what is on sale or use what you have on hand.
When to comes to using other ground meats in place of ground beef, I often like to use half ground turkey or ground chicken and half ground beef. This helps stretch the grocery budget with a cheaper, often healthier, meat. But by using part ground beef you still have the flavor of ground beef that people often miss when using ground turkey or ground chicken.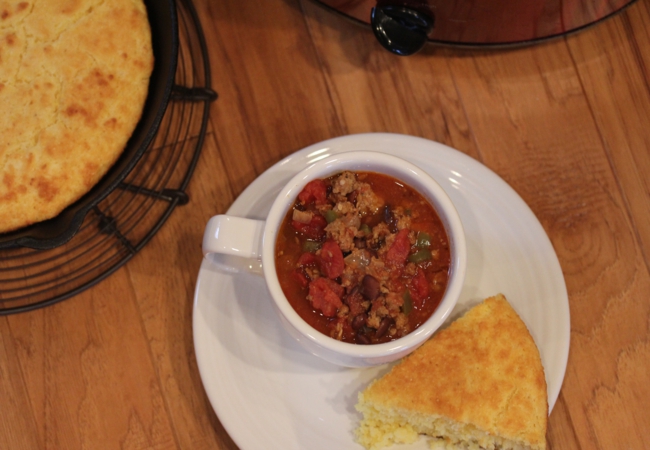 Today's recipe for slow cooked sausage chili does not use ground turkey or ground chicken, although you easily could, it uses sausage.
Now, I know sausage is not always cheaper than beef, but you can find it on sale sometimes which makes it cheaper than ground beef. For me it was simply saving money by using what I have.
Using what we have on hand instead of making a special trip to the store, or purchasing something specially for a recipe, is one of the easiest ways to save money in the kitchen.
My favorite way to make chili is with part ground beef and part deer meat. Both of which I usually have on hand.
Right now though my ground beef supply in the freezer is running low and with the price of ground beef continuing to rise, I don't want to have to buy it until I can find a good sale.
I am also out of deer meat. Last year's deer meat is gone and so far no one in my family has gotten a deer this year to restock the freezer. I do however have quite a bit of ground breakfast sausage in the freezer. So instead of making chili the way I normally do, I have been using what I have on hand which is sausage.
My family was a little skeptical the first time I made this, but they ended up loving it. It was a really nice change from normal chili and was a great way to use what I had on hand. And now we have a new family favorite.
If you are looking for a way to change up your basic chili, this sausage chili is a simple way to do it. It is also a great way to save money if you can find sausage on sale cheaper than ground beef.
Yield: 10 servings
Slow Cooker Sausage Chili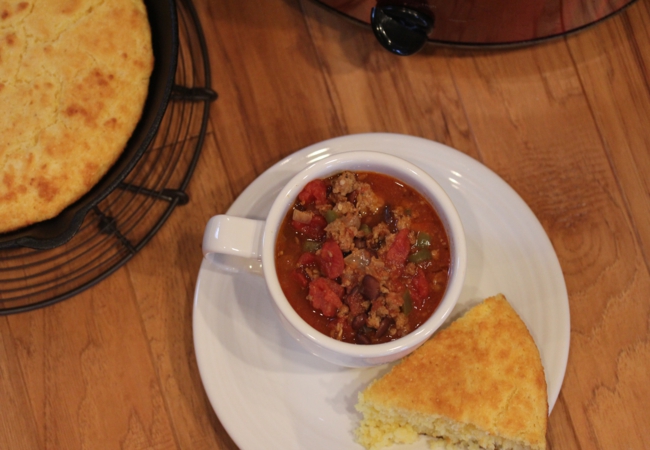 Change up chili night with this easy to make slow cooked sausage chili.
Total Time
6 hours
10 minutes
Ingredients
2 pounds ground sausage
2- 14 ounce cans diced tomatoes
1 can black beans, rinsed and drained
1- 8 ounce can tomato sauce
1 onion chopped
1 green pepper chopped
1-2 teaspoons chili powder
1 clove garlic, minced
1 teaspoon salt
1/2 teaspoon paprika
1/4 teaspoon pepper
Instructions
In a skillet brown sausage with onion and green pepper until meat is done and onion and peppers are tender.
Place meat in a slow cooker.
Add remaining ingredients and stir well.
Cook on low for 6-7 hours or on high for 3-4 hours.