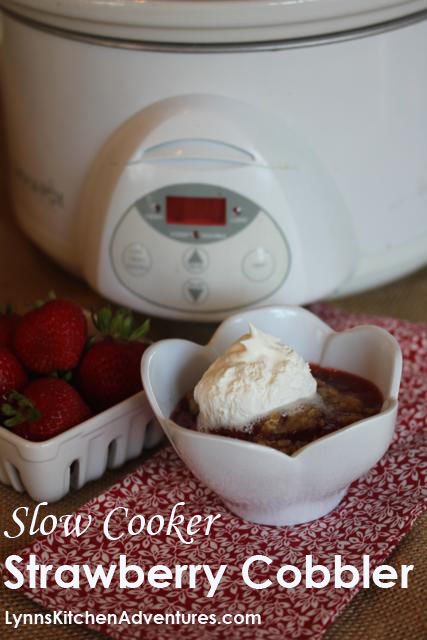 Last week I shared the link for my strawberry cobbler on Facebook and one of you asked if I had ever made it in the crock pot. I have made other cobblers in the crock pot and it works great, but I had never tried it with my strawberry cobbler.
I loved the idea and knew I wanted to try it. I had some strawberries in the fridge so one day last week I gave it a try.
It was delicious! We loved it, so I knew I had to share it for Slow Cooker Mondays.
The texture was a little different than the oven version, but it was still very delicious. The thing I liked best about this was that I did not have to heat up my oven, which was great because it was 90+ degrees the day I made this. Not a day for turning on the oven, but a perfect day for using my crock pot.
A scoop of ice cream or whipped cream on top of warm strawberry cobbler. Delicious!
Slow Cooker Strawberry Cobbler
2 1/2 – 3 lbs strawberries, sliced

1/2 cup sugar

2 tablespoons cornstarch

2 tablespoons water

3/4 cup brown sugar

3/4 cup quick cooking oats

1/2 cup flour ( I used a gf blend and it worked great)

1/2 cup butter
In a saucepan combine strawberries and regular sugar. Let sit for 30 minutes.

After sitting 30 minutes, cook over medium heat for 5 minutes.

In a bowl combine cornstarch and water. Stir into berry mixture and bring to a boil.

Boil 1 minute or until mixture is thickened.

Spoon mixture into slow cooker

In a bowl combine brown sugar, oats, and flour.

Cut in butter to form a crumbly mixture.

Spread evenly over strawberry mixture.

Cook on low for 2-3 hours. 

Best served warm with ice cream.