Who doesn't love a good pie?!
This Coconut Cream Pie with Meringue Topping is so good! And it is really pretty easy to make.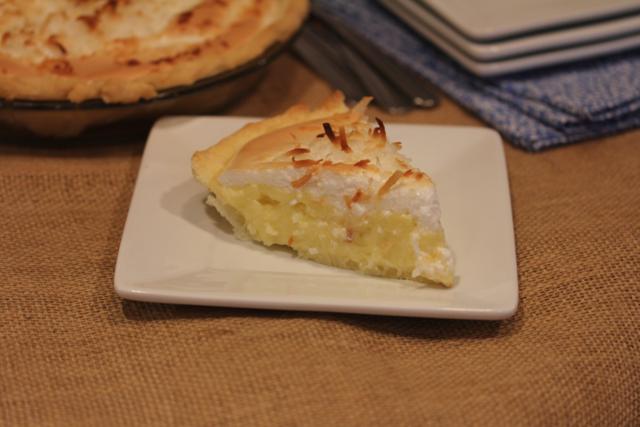 Coconut Cream Pie with Meringue Topping
1/2 cup sugar

1/4 cup cornstarch

1/4 teaspoon salt

2 cups milk

3 egg yolks, save the whites for the meringue- Eggs at room temperature work best for this and for meringue

1/2 cup coconut

1 tablespoon butter

1 teaspoon vanilla

1- 9 inch pie crust baked-

homemade pie crust

, store bought, or

gluten free pie crust
Meringue:
3 egg whites

1/4 teaspoon cream of tartar

1/4 teaspoon vanilla

5 tablespoons sugar

1/3 cup coconut
For filling:
Place eggs in a small bowl and beat. Set aside. 

In a pan combine sugar, cornstarch, salt, and milk. Whisk over medium high heat for about 3- 4 minutes or until thickened. 

Turn heat to low and add 1 cup of hot mixture to the eggs. Stir well. You are tempering the eggs here. 

Add egg mixture to the pan and whisk over medium heat for 2 minutes. 

Remove from heat and add vanilla and butter. 

I like to then put mine through a strainer to remove any lumps.

Pour into baked pie crust. 
For Meringue:
Preheat oven to 350.

In a bowl beat egg whites, cream of tartar, and vanilla until soft peaks form. 

Gradually add sugar and beat until stiff peaks form. 

Spread over filling and sprinkle coconut on top. Bake for 10-12 minutes or until meringue is lightly brown. ( I over cooked the one in the picture a little bit, so watch yours)

Let cool and refrigerate for 3-4 hours before serving. This is best served the day it is made. 
Adapted from Taste of Home