Need a quick and easy pasta dinner? Spaghetti Carbonara is simple pasta dish that contains only a few basic ingredients.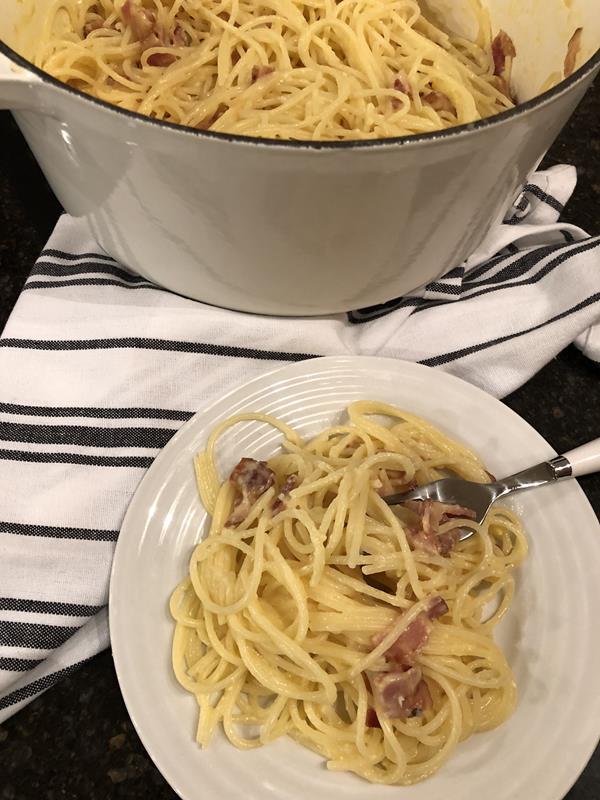 Quick and Easy Pasta Dinner
I love spaghetti carbonara. It is a perfect quick and easy meal. It only contains a few basic ingredients and my whole family loves it.
I have have several Spaghetti Carbonara recipes that I make, however I think this one is my favorite.
Years ago I saw a recipe for Spaghetti Carbonara in a Rachael Ray magazine. She changed her Spaghetti Carbonara up a little by using white wine in it.
I thought this sounded like a great idea because I knew that it would add a lot of flavor to a basic pasta dish. I knew I needed to try it.
Instead of using her recipe though, I decided to just use a basic Spaghetti Carbonara recipe that I had already made and loved and just added wine to it.
The results were so good. In fact, it was the best Spaghetti Carbonara that I have made.
The wine added just a little something extra and different to it. It gave it an extra depth of flavor, yet it didn't taste like wine.
I don't like wine. Yes, I know. I am one of those people that don't like coffee or wine. I don't have anything against either one, I just don't like them.
I like to use wine in cooking for extra flavor and for tenderizing. But since I don't love wine, I do not like my food to taste like wine. I like it to give it just a subtle depth of flavor without being overpowering. This is exactly what this recipe does. It adds great flavor without a super strong wine taste.
Make It A Quick and Easy Gluten Free Meal
Spaghetti Carbonara is easy to make gluten free simply by using your favorite gluten free pasta. The ingredients are basic, so it is easy to make it gluten free.
Need some more easy pasta recipes? You might enjoy these:
Spaghetti Carbonara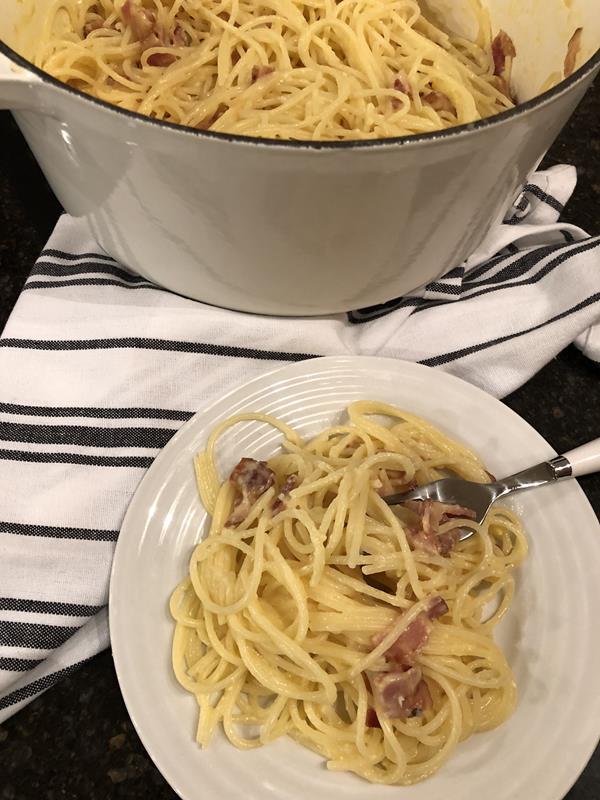 Spaghetti Carbonara is a quick and easy dinner to make using only a few ingredients.
Ingredients
¼ pound bacon, cut into pieces
2 cloves garlic, minced
1/3 cup white wine
3 eggs, beaten
1/2 cup parmesan cheese, not the stuff in the green can, the real shredded kind.
1/2 teaspoon salt
pepper to taste
16 ounce spaghetti, I use gluten free pasta
Instructions
Cook noodles according to directions on the package and drain. When noodles are done reserve 3/4 cup of pasta water for using in sauce. Drain remaining water from pasta.
While pasta is cooking, cook bacon in a skillet or pan until done.
Drain most of the fat off of the bacon. You so want to leave about 2 tablespoons of it.
Add garlic and cook for about 1 minute.
Carefully and slowly add wine.
Cook for 3-4 minutes or until wine has reduced by about 1/2.
In a large bowl combine eggs and cheese.
Working quickly egg and cheese mixture to hot pasta. Stir until combined.
Then add bacon/wine mixture. Cook over low heat, stirring constantly for 1-2 minutes. You want to cook it long enough to heat/cook the egg.
Add reserved pasta water to achieve desired consistency. I like to add about 1/2 cup of reserved water.