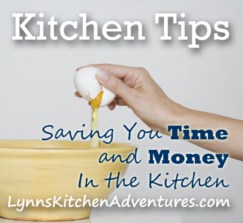 Have you ever placed aluminum foil over a pan of lasagna or enchiladas only to have all the cheese stick to the foil while it was cooking?
I know I have, but I discovered an easy tip a few years ago that keeps this from happening or at least from sticking as bad as it normally does.
All you need to do is spray the aluminum foil with oil. I use my oil spritzer, but you can also use the kind that comes in a spray can.
Do any of you do this?
Are there any other tips for keeping cheese from sticking to the aluminum foil while it is cooking?