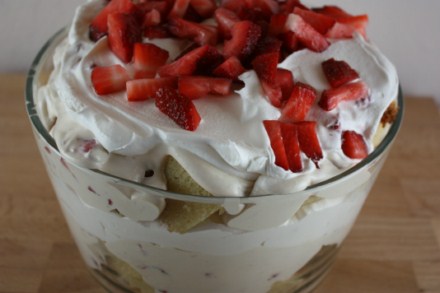 As soon as I tasted my strawberry mousse pudding, I knew it would work perfectly for a trifle.
Last week I needed a dessert to send to my husband's office for their staff meeting. I knew right away that a strawberry trifle would be a perfect dessert to make.
Everyone loved this. I will admit that I did not eat any because it is full of gluten, but from what everyone said this was a huge hit and something I need to make again.
This was really simple to make and is a perfect spring and summer dessert to make.
I made my milk cake and let it cool. I cut the cake into large chunks. I made a batch of my strawberry mousse pudding and layered the cake, the pudding, and cool whip in my trifle bowl. Refrigerate until ready to serve and enjoy!
This post linked to DIY Day and Foodie Friday.