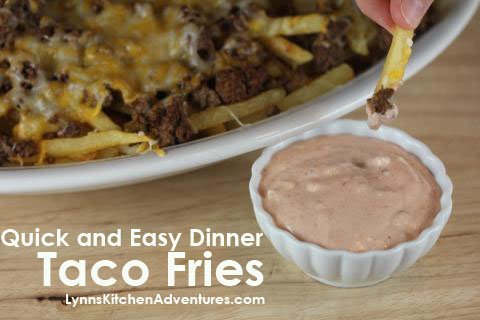 It is no secret that I love quick and easy meals. My site is full of them. What you may not know though is that I also love meals that I can keep in my freezer.
What I love about freezer meals is how easy dinner is on those crazy and busy days. Instead of grabbing take out, or a pizza, I can grab something from my freezer.
One of the most versatile things I keep in my freezer is taco meat. I can use it for tacos, taco pasta, over crock pot baked potatoes, as taco salad, on tater tot nachos, and more.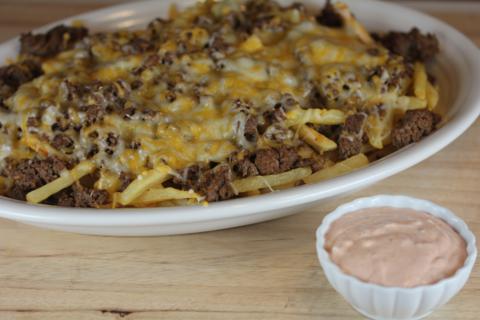 Today's recipe is another recipe I love using freezer taco meat for. Taco Fries anyone?!
What I love about Taco Fries is that they are not only quick and easy to make, they are kid friendly. My kids love it when I serve these for dinner.
Really what could be bad about french fries covered in taco meat and cheese and then dipped in a simple sauce?!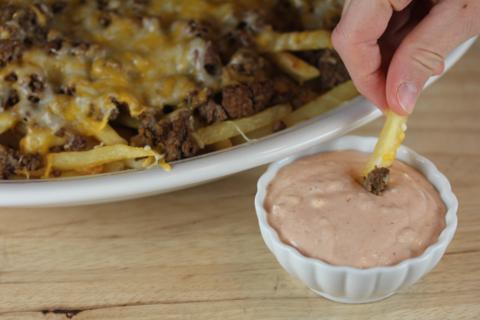 Taco Fries
Cook french fries at 375 for 10 minutes.
Remove from oven and sprinkle taco meat over the top and sprinkle cheese on top of meat. Bake for about 15 minutes more. Or until cheese is melted and everything is heated through.
In a small bowl combine sour cream and taco sauce.
Serve sauce mixture with fries as a dipping sauce.