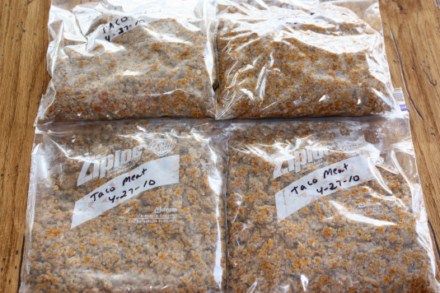 One of my favorite things to freeze is taco meat. It is so easy to make a large batch, place it into Ziploc bags, and freeze.
What I love about having taco meat in the freezer is that I can use it for so many things. It works great for tacos, taco salad, and nachos. I also use it in enchiladas and burritos. You can even use in it taco pasta or taco soup.
I have been making and freezing my taco meat for at least 8 years. My sister gave me a recipe a long time ago, and I have been using it ever since.
The trick to this is the tomato sauce. You do not want to freezer water, or at least you should try to avoid it.
Most seasoned taco meat contains water. I don't like water in my freezer meals, because water is more likely to form ice crystals and have freezer burn. If you can avoid it don't freeze items that contain water.
This recipe uses tomato sauce in place of the water. Not only does it freeze better this way, I think it also tastes better. I like the flavor that tomato sauce gives the meat.
You can almost always find a package of this taco meat in my freezer. I usually make and freeze six to eight pounds of meat at once. I love being able to make this all at once and use it over several months. It really is one of my favorite things to have in my freezer.

Freezing Taco Meat
2 pounds ground beef
8 ounces tomato sauce
1 package of taco seasoning, I use my homemade seasoning ( if you like more seasoning you can use 2 packages )
Brown ground beef and drain.
Mix tomato sauce and seasoning into meat and combine well.
Divide into containers or Ziploc bags, cool, and freeze.