Gluten Free Red Lobster Style Biscuits anyone?!
When I posted on Facebook a couple of weeks ago that I had come up with a gluten free version of these, many of you said you wanted the recipe, so today I finally have it for you.
I wanted to be sure I had the recipe right, so I thought I should make them a few times before sharing the recipe with you all. My family really did not mind at all that they had to eat these several times over the last few weeks. In fact, they probably would have been fine with me making them a few more times.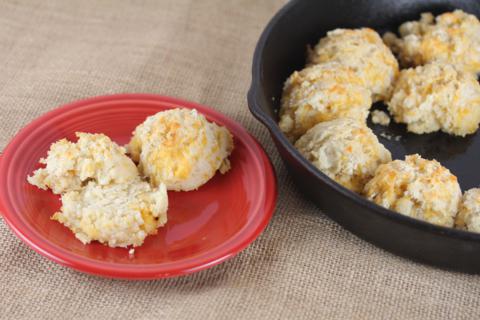 I don't even want to talk about how many of these I ate the first time I made them. Or the second or the third time I made them for that matter. Seriously these are so good.
Now, I will admit that it has been years, maybe ten years since I had a real Red Lobster Cheddar Bay Biscuit. I have been gluten free for over three years now, so I have not eaten there in the last three years. Before that, well we really did not eat at Red Lobster either. I know I have had them, because I have eaten at Red Lobster, it has just been a really long time.
So, I can't say if these are exactly like the real thing, but I think they are pretty close. And I can easily say these are really good.
These are best eaten the day you make them. We have reheated them them in the microwave the next day, but they really are not quite as good. Warm from the oven on the other hand they are delicious!
Yield: 12 servings
Gluten Free Red Lobster Style Cheddar Bay Biscuits
Make those famouse biscuits gluten free at home with this gluten free Red Lobster Cheddar Bay Biscuit recipe.
Ingredients
1 1/2 cups brown rice flour
1/2 cup potato starch
1/4 cup tapioca starch
1/2 teaspoon xanthan gum
1 tablespoon baking powder
2 teaspoon sugar
1/4 teaspoon salt
1/4 teaspoon baking soda
1/2 teaspoon cream of tartar
1/2 teaspoon ground red pepper, less if you don't won't a lot of spice ( I am not sure the real ones have this, but several of the copycat recipes for the regular version I saw online did and we like the flavor it adds.)
1/2 teaspoon garlic powder
1/2 cup butter
1 1/4 cup buttermilk
1 1/4 cups grated cheddar cheese
Instructions
In a large bowl combine brown rice flour, potato starch, tapioca flour, xanthan gum, baking powder, sugar, salt, cream of tartar, baking soda, ground red pepper, and garlic powder.
Cut butter into small chunks and cut into flour mixture until butter is about pea-sized.
Stir in buttermilk until combined. Be careful not to overmix. Stir in cheese
Drop onto a cast iron skillet or cookie sheet. This makes 10-12 biscuits.
Bake at 450 for 15-18 minutes or until done.
Nutrition Information:
Yield:
12
Serving Size:
1
Amount Per Serving:
Calories:

240
Total Fat:

12g
Saturated Fat:

7g
Trans Fat:

0g
Unsaturated Fat:

4g
Cholesterol:

33mg
Sodium:

385mg
Carbohydrates:

27g
Fiber:

1g
Sugar:

2g
Protein:

6g
Nutritional values are approximate and aren't always accurate.