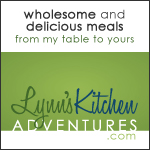 Today on my main site I am sharing some thoughts about blogging and my journey in the kitchen over the last three years.
I am taking the opportunity to share a bit about the food challenges we have faced since I started blogging, but also share that my goal for my site has not changed.
I am hoping that this post will help answer some of the questions that my newer readers that are nut and gluten free have.
Three years ago this week, I started Lynn's Kitchen Adventures.
I have enjoyed the last three years here at Lynn's Kitchen Adventures more than I ever imagined I would. I love sharing kitchen tips, recipes, and ideas of how I combine my love of cooking with a busy life.
When I started my site in 2008, I named it Lynn's Kitchen Adventures, but I had no idea the adventures in the kitchen that were before me.
You can read more of my post on my main site.