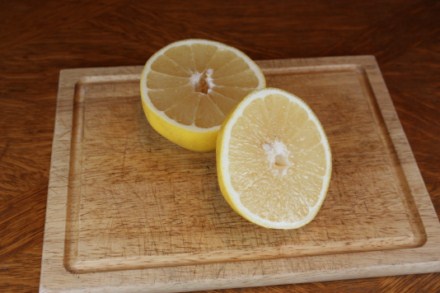 Several of you knew exactly what last week's What Is It Wednesday was.
Others of you were close, in that you guessed grapefruit. It is a type of grapefruit, but not a regular grapefruit.
Last week's What Is It Wednesday was a white grapefruit.
Now, I will admit that I do not like grapefruit. I never have and I doubt I ever will. I have tried, really I have.
My husband loves them. He eats them like an orange. He peels them, and eats them segment by segment, with no sugar or anything else on it.
I on the other hand can only tolerate grapefruit if there is more sugar than grapefruit involved, but for the sake of trying new foods and encouraging my kids to do the same, I tried the white grapefruit.
And it was okay. I thought it was a little sweeter than other grapefruit that I have tried in the past, but it is still not something I would want to eat regularly.
My husband though loved the white grapefruit. He said that it was one of the best grapefruits that he has had in a long time. I am not sure if this is due to the fact that it was a white grapefruit or if it was the quality of the grapefruit that we found at Whole Foods. They do tend to have good produce at Whole Foods.
My husband thought it was probably the variety and not just the quality of the fruit. Either way though, he said he loved it and would buy it again.
So, if you like grapefruit you will probably love the white grapefruit, however if you do not like grapefruit, I am guessing that you will not think that a white grapefruit is all that different.
Now I am curious, how many of you like grapefruit? And how do you eat it?