Tiger Bark is a simple four ingredient candy that combines chocolate and peanut butter into a delicious homemade treat.
When I make holiday candy I like to have quick and easy recipes, but I still want them to taste great. Quick and easy should not sacrifice taste.
This recipe fits that category. It is so easy and yet so good.
I got this recipe from a friend years ago and it is always a hit. I make it at least once a year.
I have also given it as a food gift or on a tray full of homemade candy to friends and family. Everyone loves this.
I love how easy this recipe is and that it only contains a few ingredients.
This recipe is so easy even someone that doesn't really cook can make it. This is also a great recipe for kids to make or to help with because it is so easy.
I know I keep saying how easy this is to make, but it really is.
Note: Long time readers will know that my daughter now has a peanut and tree nut allergy. I know make this with Wowbutter or Sunbutter and it is still delicious. It is not quite the same, but still very good.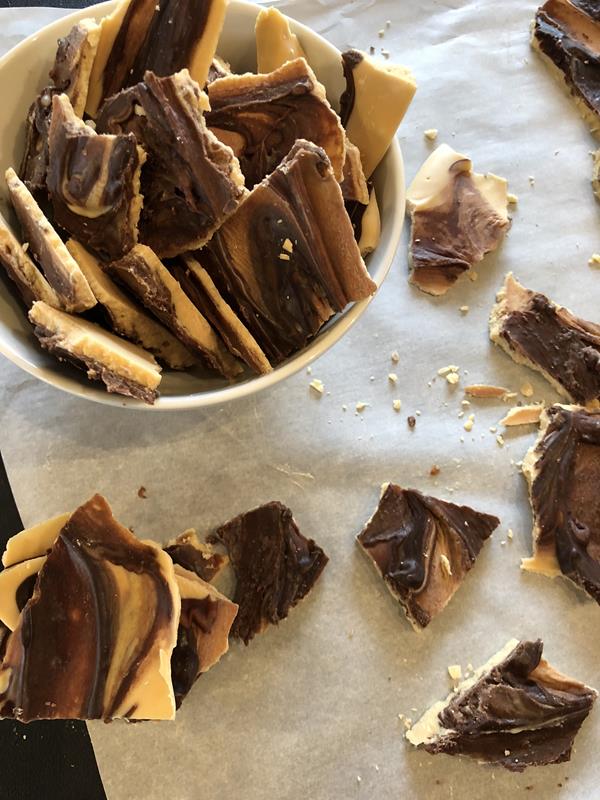 Need some other quick and easy homemade candy recipes?
Tiger Bark
Tiger Bark is an easy four ingredient candy.
Ingredients
16 ounces white chocolate, cut into pieces or use white chocolate chips
1/2 cup Peanut Butter
1 cup semisweet chocolate chips
4 teaspoons half-and-half or cream
Instructions
Line a cookie sheet or baking pan with parchment paper or a silicone baking mat.
In a microwave-safe bowl, combine white chocolate and peanut butter. Cook on 50% power for 2-3 minutes, stirring every 30 seconds until melted and smooth.
Spread onto the lined baking sheet coated with cooking spray. Spread it out to form a fairly thin layer.
In another microwave-safe bowl melt chocolate chips and cream on 50% power for about 1-2 minutes, stirring every 30 seconds, or until chocolate is melted and smooth.
Pour and swirl chocolate over peanut butter layer.
Freeze for 5 minutes or refrigerate until set. Break into small pieces.