It is no secret that my family loves baked oatmeal. This will be the sixteenth baked oatmeal recipe that I have shared. Yes, I have sixteen different versions of baked oatmeal.
My family might just have a baked oatmeal problem. But I guess that is a good problem to have.
I started making this triple berry version of my baked oatmeal last fall and my family loved it. It has become one of our favorite baked oatmeal recipes. I have debated about sharing it though since I already have so many baked oatmeal recipes on my site.
However, since I have been making this so much, I knew I needed to share it with all of you. It is so good and I know many of you love baked oatmeal as much as my family does.
My favorite way to make this is to make two pans up Saturday night and refrigerate it overnight. I then bake it Sunday morning.
Two pans gives us plenty for Sunday morning breakfast as well as enough to reheat at least one or two days during the week. This makes breakfast quick and easy.
For the berries in this, I use a triple berry blend that I buy frozen at Sam's Club. Most stores have a triple berry blend though.
If you don't have the triple berry blend, or can't find one, just use a mix of several kinds of berries and it will work just fine too.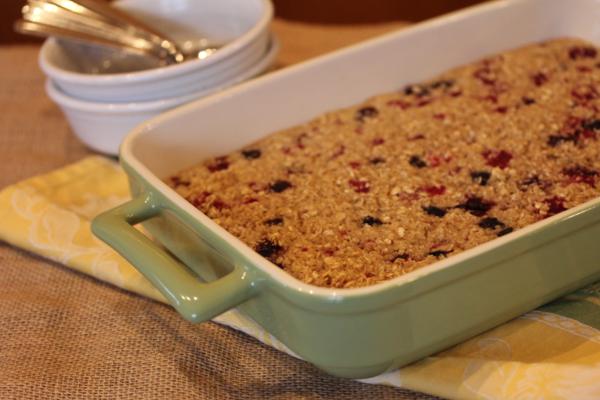 Yield: 8 servings
Triple Berry Baked Oatmeal
Triple berry baked oatmeal is all the flavors of summer in delicious baked oatmeal.
Ingredients
3 cups quick cooking oats ( Use gluten free quick oats for gluten free version)
1/2 cup brown sugar
1 1/2 cups milk
2 tablespoons butter, melted
2 eggs
2 teaspoons baking powder
3/4 teaspoon salt
2 teaspoons vanilla
2 cups triple berry frozen fruit blend
Instructions
Preheat oven to 350.
In a bowl mix together all ingredients, except berries, and combine well.
Carefully stir in the berries.
Spread into a greased 9x13 pan and bake for 20-25 minutes or until done. You want it set up, but not really dry.
Serve warm drizzled with additional milk or cream if desired.