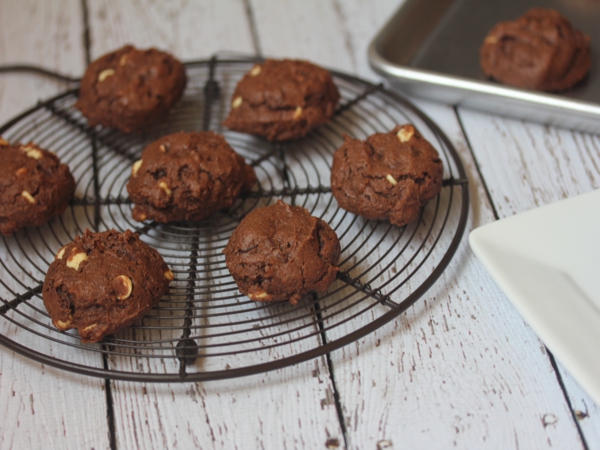 I have a few cookie cookbooks from before I went gluten free that I still love looking through. No, I can't make any of the recipes as they are in the cookbook, but I can easily adapt most of them to be gluten free.
Today's gluten free sour cream chocolate cookies are an example of a recipe I converted to gluten free. When looking for recipes that will easily convert I often lean towards ones with dairy in them. There is something about butter, buttermilk, sour cream, and even ricotta cheese that makes gluten free baked goods so much better.
So when I was looking through one of my cookbooks and saw a recipe for sour cream chocolate cookies, I knew I could easily adapt them to be gluten free.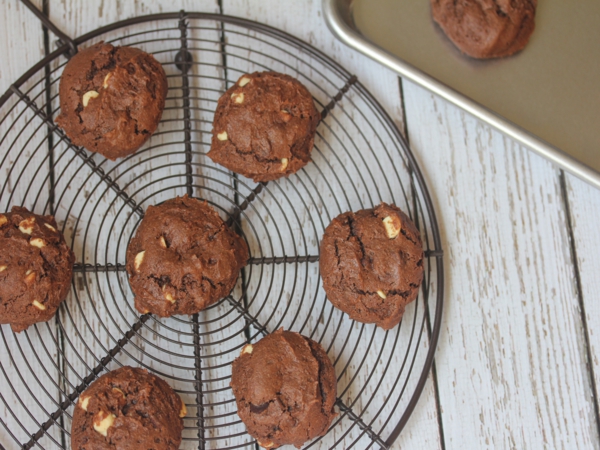 Don't those look delicious?! They were. These cookies turned out so good. They have a lighter, more cake like texture that we really enjoyed for a change.
Have you ever used sour cream in a cookie before?
Gluten Free Sour Cream Chocolate Cookies
1/2 cup butter, softened
3/4 cup sugar
1/2 cup brown sugar
1 egg
1/2 cup sour cream
1 teaspoon vanilla extract
1 cup white rice flour
1/2 cup potato starch
1/4 cup tapioca flour
1/2 teaspoon xanthan gum
1/2 cup baking cocoa
1 teaspoon baking powder
1/2 teaspoon baking soda
1/4 teaspoon salt
1 cup gluten free chocolate chips
1/2 cup gluten free white chocolate chips
Preheat oven to 350 degrees.
In a large bowl cream butter and sugars until light and fluffy. This will take 3-4 minutes.
Beat in eggs, sour cream, and vanilla.
In a small bowl combine dry ingredients. Gradually add to creamed mixture.
Stir in chips.
Drop tablespoons full onto baking sheet. Flatten slightly.
Bake for 11-13 minutes or until set.
Cook on pan 3-4 minutes and remove to wire rack to finish cooling