A few weeks ago I was exercising while watching the foodnetwork. Yes, I know it is probably a bad idea to exercise while watching cooking shows, but it is about the only time I have time to watch the foodnetwork. So, foodnetwork is often what I watch while exercising.
I end up watching whatever is on at the time I am exercising. Sometimes, it is a show I really like, other times it is something that is just okay and I end up flipping the channels back and forth between news, foodnetwork, and whatever else I can find.
I recently ended up watching Everyday Italian with Giada De Laurnetis. I have only seen this show a few times since it is on at a time I do not usually exercise. The few times I have watched it, I have had mixed feelings. She has some good ideas, but a lot of her recipes call for ingredients that I don't usually have in my cupboards.
But this particular day she was making several things that I was very interested in. One of the dishes was a tuna panini on focaccia bread. I love tuna sandwiches and I love panini. The combination of the two sounded really good and I had never thought to put them together.
Her recipe calls for Italian tuna, provolone cheese, and frisee lettuce. I decided to take the general idea and make it more practical for my family. I am sure Italian tuna would probably be better, but I just used what I had in my pantry. I also did not like the idea of lettuce on this sandwich because it is a hot sandwich and I prefer my lettuce on cold sandwiches not warm ones. But if you think lettuce sounds good go ahead and put some on. I do however love provolone cheese, but I do not usually keep it on hand. It is a bit expensive for us to use everyday.
I think using regular tuna and mozzarella cheese this sandwich makes a very frugal and simple dinner. Serve it with a regular or fruit salad and you have a great meal.
I used my panini press for this, but you could easily use a pan or grill pan.
I used this tuna because it is what I had.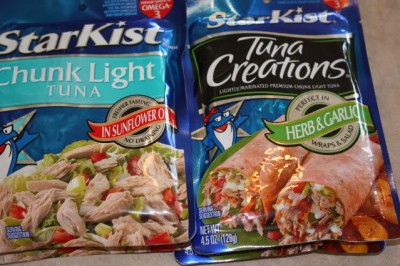 I like the flavored tuna that comes in the pouch, but since it is more expensive I usually mix it with the plain tuna. So, that is what I did for this.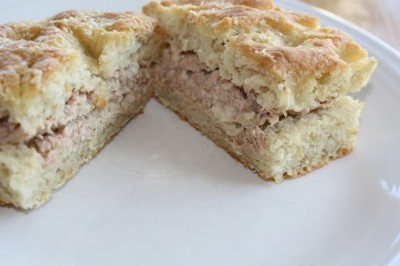 So here is the version of tuna panini that I made.
Yield: 4 servings
Tuna Panini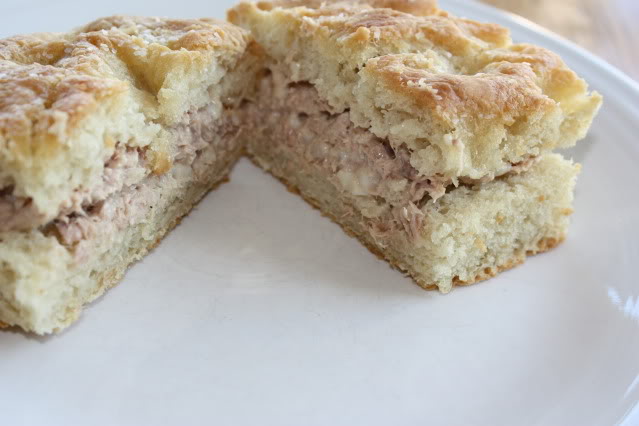 Easy and delicious lunch or dinner.
Ingredients
9 ounces or so of tuna, you can vary this amount, just adjust the rest of the ingredients, if using canned tuna drain well,
1/3 cup mayonnaise
2 tablespoons lemon juice
1/4 teaspoon salt or to taste
1/4 teaspoon pepper or to taste
mozzarella or provolone cheese, I used mozzarella, but I want to try it with provolone, I think it would give it a little different flavor
Instructions
Mix together tuna, mayonnaise, salt, and pepper.
Spread on focaccia and place cheese on top of tuna.
Place bread on top and heat on panini press or grill pan.
Cook for 3-4 minutes and flip.
Cook until heated through and cheese is starting to melt.
Nutrition Information:
Yield:
4
Serving Size:
1
Amount Per Serving:
Calories:

429
Total Fat:

24g
Saturated Fat:

7g
Trans Fat:

0g
Unsaturated Fat:

16g
Cholesterol:

77mg
Sodium:

812mg
Carbohydrates:

13g
Fiber:

1g
Sugar:

2g
Protein:

39g
Nutritional values are approximate and aren't always accurate.