Wacky Cakes go back to the depression days because they were easy and frugal to make. This Vanilla Wacky Cake with Chocolate Chips is a delicious version of the classic wacky cake.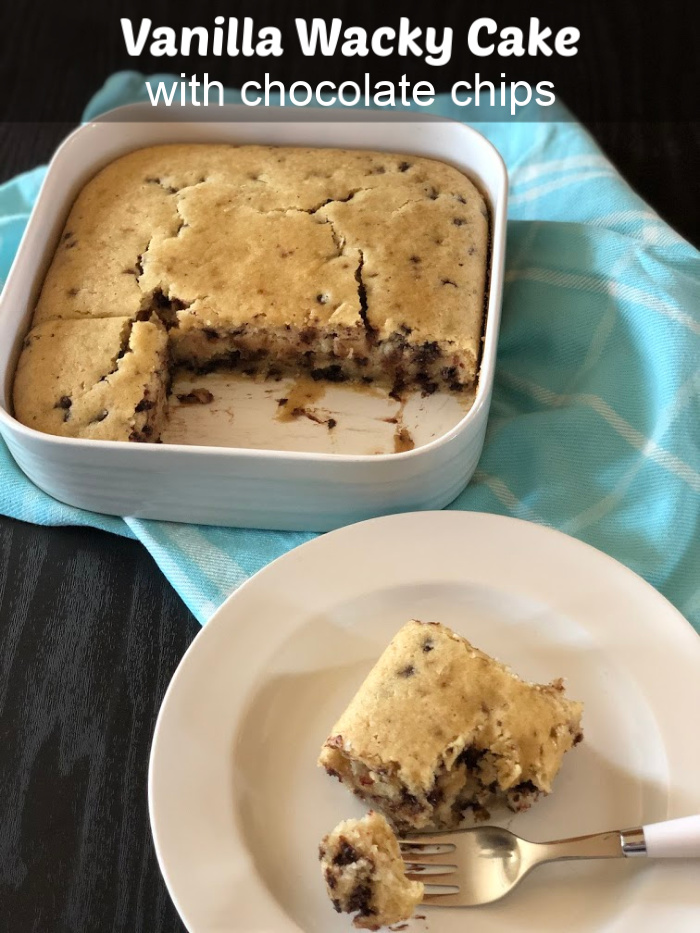 Wacky Cakes are also known as Crazy Cakes or Depression Cakes. No matter what you call them they are all the same basic cake recipe with no eggs, no milk, and no butter.
There are all kinds of different versions of Wacky Cake, but Chocolate Wacky Cake and Vanilla Wacky Cake are the most popular.
Wacky Cakes are a simple cake. They are not fancy or full of ingredients. Many recipes today have frosting on the Wacky Cake, but the original cakes didn't have frosting.
The whole point of making a Wacky Cake was to save money and use simple ingredients. Yes, you can add frosting, but if you are trying to make a simple and inexpensive cake leave the frosting off. It is good on it's own.
The version I am sharing today contains chocolate chips. Which again takes away from the traditional inexpensive part. The original versions did not contain chocolate chips, but we enjoy it with a few chocolate chips stirred in.
If you want a basic Vanilla Wacky Cake leave out the chocolate chips. If you want it to be a little more special add in some chocolate chips.
Why Is It Called Wacky Cake or Crazy Cake?
It got its name from the fact that it is not your typical cake. It doesn't contain milk, eggs, or butter. It has vinegar in it which most cakes don't have in them.
The traditional way to mix this cake is very different than your normal cake. Instead of beating the ingredients together in a bowl, you make this all in the pan that you bake it in.
What Is Wacky Cake?
Wacky Cake is simply a basic cake with no eggs, butter, or milk. It is inexpensive to make with ingredients that you almost always have on hand.
Can I Make Wacky Cake Gluten Free?
Yes, you can! I have a Gluten Free Vanilla Wacky Cake recipe and a Chocolate Gluten Free Wacky Cake Recipe.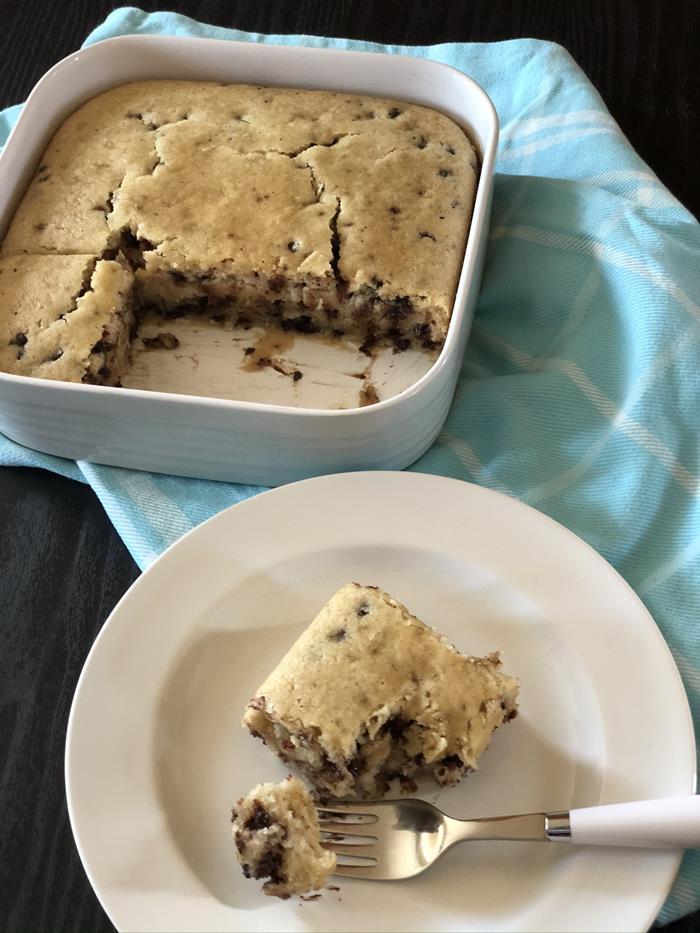 Yield: 9 servings
Vanilla Wacky Cake with Chocolate Chips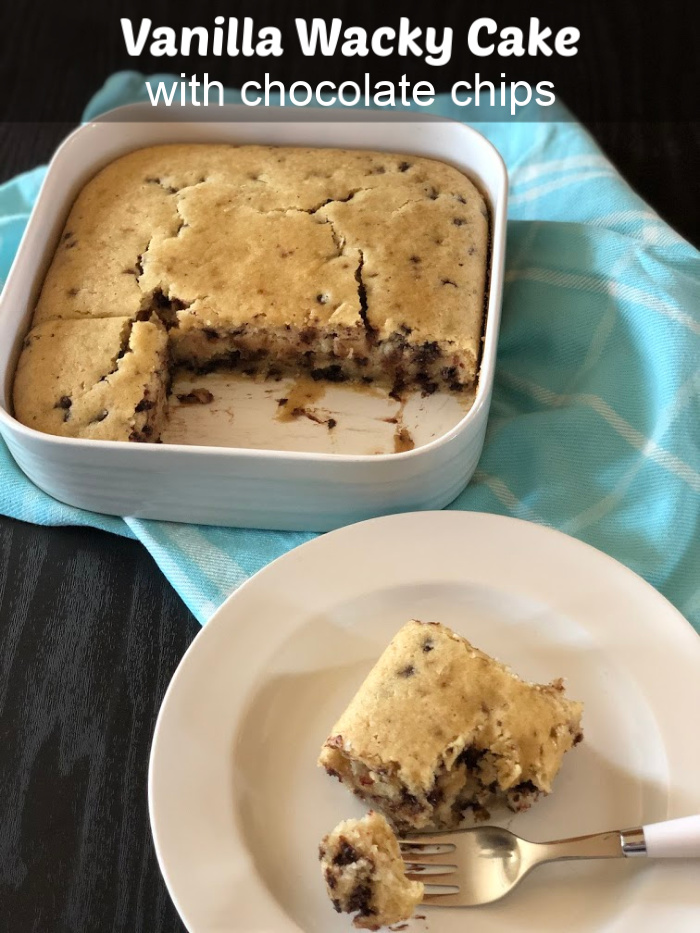 Vanilla Wacky Cake is a simple wacky cake with no eggs, no milk, and no butter.
Ingredients
1 1/2 cups flour
1 cup sugar
1 teaspoon baking soda
1/2 teaspoon salt
1 tablespoon white vinegar
5 tablespoons oil
1 cup water
1 teaspoon vanilla extract
1 cup chocolate chips
Instructions
Preheat oven to 350 degrees.
Grease an 8x8 pan.
There are two ways to mix this in 8x8 square pan, or a mixing bowl. The original way has you mix it in the pan. I find that I can mix it together better in a bowl. I don't mind washing the bowl. Make it however you want.
In an 8x8 pan or mixing bowl combine flour, sugar, baking soda, and salt.
Make three depressions in the flour mixture, one larger depression and two small ones.
Pour oil in the larger one. Pour vinegar and vanilla in the smaller ones.
Pour water over all.
Stir all together and mix until smooth.
Stir in chocolate chips if using.
If mixing in a bowl spread batter into an 8x8 pan.
Bake for 35 minutes.
Let cool and cut into pieces.
Notes
You can make this gluten free by using Bob's Red Mill gluten free flour blend.
Nutrition Information:
Yield:
9
Serving Size:
1
Amount Per Serving:
Calories:

325
Total Fat:

14g
Saturated Fat:

4g
Trans Fat:

0g
Unsaturated Fat:

9g
Cholesterol:

0mg
Sodium:

261mg
Carbohydrates:

51g
Fiber:

2g
Sugar:

33g
Protein:

3g