Two ingredients is all you need for this quick and easy dessert! Vanilla Wafer Ice Cream Sandwiches are so good and easy to make ahead!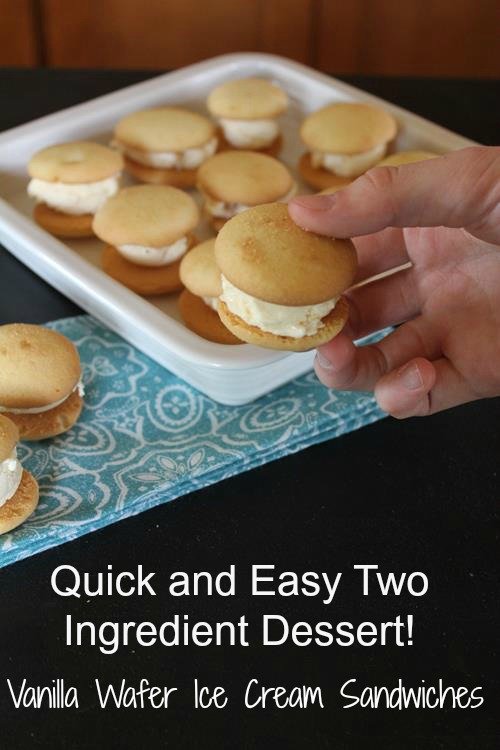 It seems like every once in a while I have a conversation with one of my parents that gives me a glimpse of their childhood that I have never seen before. I enjoy this when it happens. It is good for us to hear the stories of previous generations. We can learn a lot from them.
I guess my parent's enjoyed my post last week on frugal snacks like graham crackers and frosting or pie crust. My parent's found it quite funny that my sisters and I thought my mom was the only one that had come up with the idea of those snacks.
Well, many of you left comments on how you enjoyed them too and that they were part of your childhood. So, my sisters and I now know that this is something many people used to do in order to avoid waste. My mom was not the only one that made those treats.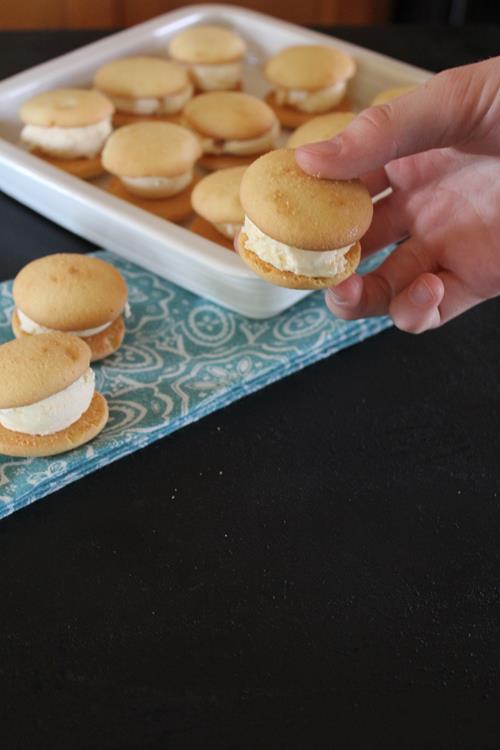 When my dad and I were having a conversation about all of that, he started talking about this great dessert his mom, my grandmother, used to make. It was not really a recipe, just a quick and fun dessert. He said he loved it and it was such a treat because they rarely could afford store bought treats. He also said his dad loved it. He said it was one of his dad's favorite desserts to eat.
What was it?
It was ice cream sandwiches made from vanilla wafers.
When my dad told me about them I immediately thought, why I hadn't I thought of that! That is a great idea. My grandma was so smart to do this. A whole box of vanilla wafers and a container of ice cream would feed a ton of kids or people dessert. Everyone could have one or two and feel like they got dessert without really eating that much.
My dad said my grandma almost always had a box of vanilla wafers in the back of the cupboard so that she could make these for a quick dessert when she needed it.
After my dad told me about these I knew I needed to try it. So, I got a box of vanilla wafers this week at the store and we made vanilla wafer ice cream sandwiches one night. My kids thought they were great. I liked them because after only one or two I felt like I had dessert, but I had not eaten a lot of dessert. I will be making these again!
I think they would make a great idea for a kid's party. You can make a whole bunch ahead of time and place them in the freezer. Then for the party all you have to do is take them out and serve them. It really is an easy, frugal, and fun dessert.
What a great idea and a great story dad, thanks!
How To Make Them Gluten Free
I have made these many times with gluten free vanilla wafers. They work great that way. In fact, I have served the gluten free version to regular eaters and they loved them as much as those that eat gluten free did.
These vanilla wafer ice cream sandwiches make a delicious two-ingredient gluten free dessert.