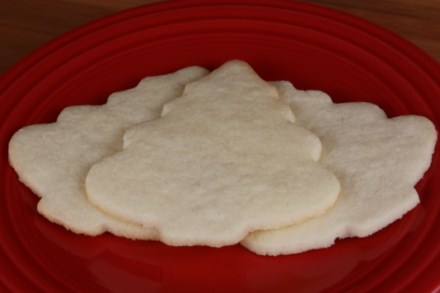 My sisters and I have fond memories of making sugar cookies when we were kids. We always made them during the holidays. We enjoy making them, cutting them out, frosting them, and of course eating them.
My mom never looked for perfection in the sugar cookies we made. She let us have fun and be creative while making them. They may not have been the prettiest cookies, but we always had so much fun.
Today, my sister Evie is sharing a recipe today that has been a family favorite for many years. We have all made this recipe many times. I hope you enjoy it also.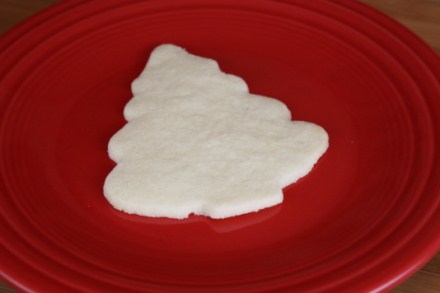 One of the few holiday traditions I remember from childhood is baking and decorating sugar cookies. There was always something special about rolling out the dough, mixing up different colored frostings, and decorating cookies.
Since my own daughter is only four months old, I usually borrow my best friend's kids to help me with my holiday sugar cookies. I know that some people prefer to have perfectly decorated cookies. However, I love the fun in letting kids decorate them however they want. I make a traditional butter cream recipe and let the kids have at it.
My sister, Flora, adapted this from a Taste of Home recipe years ago and we've been making it ever since. The addition of cream cheese makes these cookies extra soft and delicious.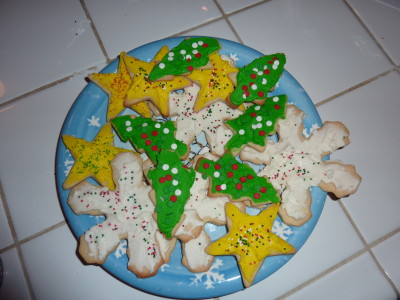 Cookies lovingly decorated by kids.
Velvety Sugar Cookies
2 c. unsalted butter

1 8oz. pk. cream cheese

2 c. sugar

2 egg yolks

1 tsp. vanilla

4 ½ c. flour, plus extra for rolling out

Frosting and sprinkles, optional
Cream together butter and cream cheese until smooth.
Add sugar, egg yolks, and vanilla. Mix well.
Gradually add flour. Stir until combined. Dough will be slightly sticky.
Cover and refrigerate for 1-2 hours.
Roll dough out on a floured surface until about a quarter inch think. Cut into shapes.
Place on a lightly greased, or lined baking sheet.
Bake at 350 for 10-12 minutes, or until just barely starting to brown. Do not over bake.
Cool and frost if desired.
Butter Cream Frosting
3 ½ c. powdered sugar
2 TB. butter, softened
1 TB shortening
½ tsp. vanilla
3-4 TB milk, divided
Food coloring
Combine 1 ½ c. sugar, butter, shortening, vanilla, and 3 TB milk. Beat until smooth.
Gradually add remaining sugar. Beat until light and fluffy, about 3 minutes
Add enough remaining milk and food coloring until frosting reaches desired consistency.