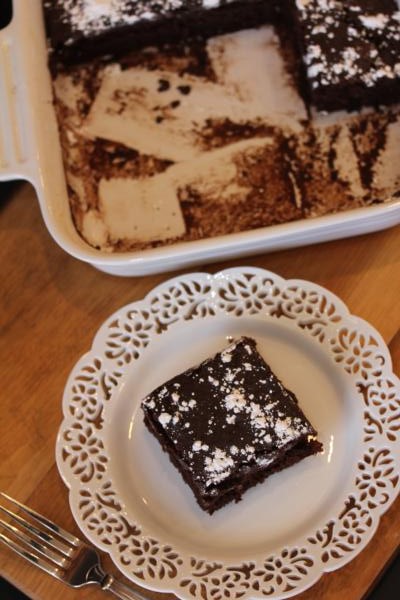 Today for my Cooking Through My Collection series I am sharing Wacky Cake.
If you have never had or heard of Wacky Cake, it is a cake that was popular during WWI, WWII, and the Great Depression. Butter, eggs, and milk were often hard to get during those times, making this cake a great option for dessert.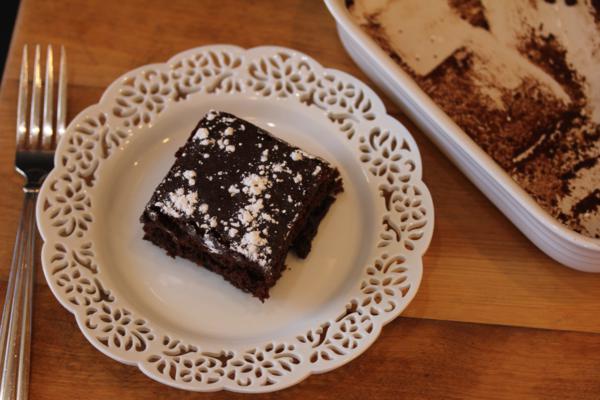 Most wacky cakes are the same basic recipe and ingredients, but the version I am sharing today comes from America's Best Lost Recipes
 (Affiliate Link) by Cook's Country.
I love Cook's Country and Cook's Illustrated books and magazines. They are some of my favorite cookbooks and recipes. I love not only the recipes, but the information and science behind the recipes that they share.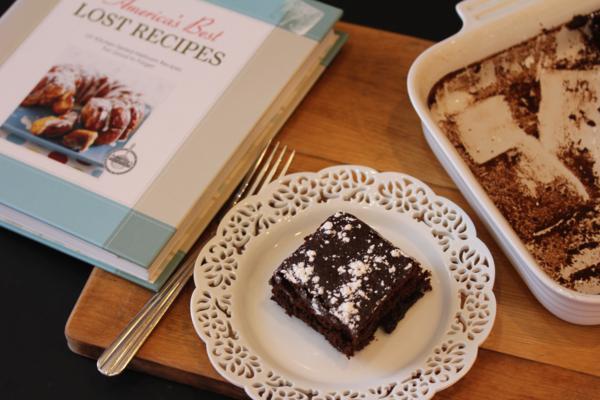 According to Cook's Country the Wacky Cake gets its name from the way it is mixed. Which is right in the pan. It also has a strange way of mixing it in that you make small holes in the dry ingredients and then add the wet ingredients to those holes.
This cake is also a bit wacky in the way it works without eggs. The baking soda and vinegar do the work of lifting the batter similar to how an egg would.
Most Wacky Cakes that I have seen keep it simple and leave it plain or sprinkled with powdered sugar, but if you want to take it to the next level you could easily frost it.
Wacky Cakes are a simple cake that are a bit dense compared to most cakes. They are also not as sweet as cakes often are now. But I think this is what makes a Wacky Cake great. It is a bit of a "healthy" dessert that is easy and inexpensive to make.
Have you ever made a Wacky Cake? What do you think of them? 
Wacky Cake

A simple old fashioned dessert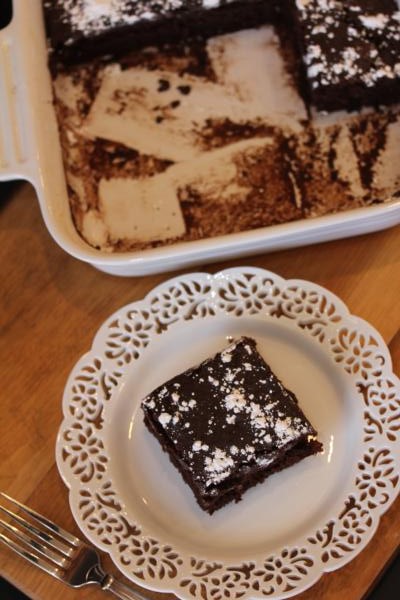 Preparation Time:10 Min
Total time:40 Min
6-8 servings
Ingredients:
1 ½ cups all purpose flour or gluten free flour blend

3/4 cup sugar

1/4 cup baking cocoa

1/2 teaspoon salt

3/4 teaspoon baking soda

5 tablespoons oil

1 tablespoon white vinegar

1 teaspoon vanilla extract

1 cup water

powdered sugar
Instructions:

1. Preheat oven to 350 degrees.
2. Grease an 8 inch square pan.
3. Place flour, sugar, cocoa, baking soda, and salt in greased pan. Whisk together.
4. In in flour mixture make one large crater and two small ones.
5. Add oil to large crater. Add vinegar to one small crater and vanilla to the other one.
6. Pour water over entire mixture.
7. With a wooden spoon mix all together until mixture is well combined and no streaks remain.
8. Bake for 30 minutes.
9. Let cake cool and sprinkle with powdered sugar.