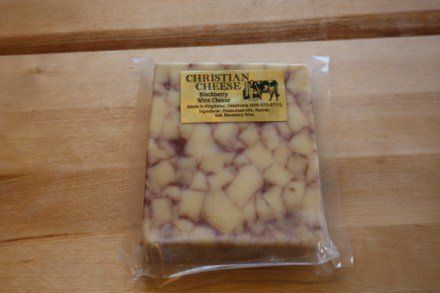 I am sorry that this did not get posted yesterday. I had a really busy day and I forgot to post it. I guess this week it is What Is It Thursday.
This week's What Is It Wednesday ( I mean Thursday) is easy because there is no guessing. I figured with how smart you all are that you would easily guess this as cheese. And many of you would probably know exactly what kind of cheese it is.
It is no secret that I love cheese. There are very few kinds of cheese that I do not like.
When I recently saw Blackberry Wine Cheese at the store I was intrigued. It sounded very interesting and good. Now, I will say this was a bit more expensive than the cheese I would normally buy. I love cheese, but I don't like to spend a lot of money buying some of the unusual kinds of cheeses.
However, the day I saw this cheese I was in the mood for a bit of a treat and I decided to buy it. I am so glad that I did. This cheese was very good. It was not too strong and had a hint of a berry taste, but not an overpowering berry taste. My whole family loved this cheese.
If you usually stick to the basic cheeses like cheddar, jack, and mozzarella then I encourage you to try something different. You might be surprised at how much you enjoy it.
Have any of you ever tried Blackberry Wine Cheese?