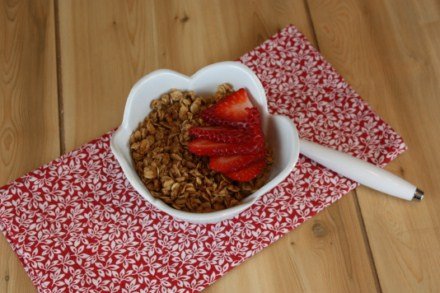 Do you love granola? Have you ever tried to make your own?
Well, it is really easy and so good. And this Strawberry Granola is a perfect summertime breakfast.
Over the last few years I have started making homemade granola more and more. My daughter's nut and peanut allergy prevent us from buying most store granola and the ones that are safe are very expensive, so making them at home is often the safest and cheapest option for us.
However, we were getting tired of the same basic granola. I wanted something different and unique. Something that would change up our everyday granola recipe.
We often add fruit to our granola when we serve it, but I was looking for a way to change the actual granola. So, I started experimenting with my nut free granola recipe. I decided that the easiest way to add some fruit flavor to it would be to try adding  jelly to my basic recipe.
Jams and jellies are something that I always have on hand, so I knew it would be an easy addition to granola. I also thought that it would add some intense flavor without changing the recipe a lot.
I was a little worried that it would hurt the texture, but it did not hurt it at all, instead it made it even better. It was a bit crunchier than my regular homemade granola and it had a slight fruit taste to it. It was wonderful and we all loved it.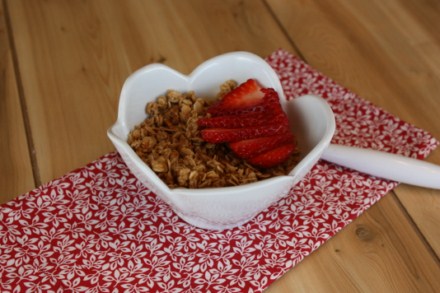 You can really change this up by using any jam or jelly. Try blackberry or raspberry. A boysenberry or even a grape jelly would be good. Really, you can make all kinds of variations of this. And you feel like you are eating something different everyday.
If you are looking for a healthy breakfast to serve your family, give homemade strawberry or other fruit flavored granola a try. I think you will love it.
Homemade Strawberry Granola
1/3 cup brown sugar
1/3 cup oil
1/2 cup honey
1 cup strawberry jam or jelly ( or other fruit jelly or jam)
3 cups old fashioned oats
4 cups quick oats
In a small saucepan mix together brown sugar, oil, and honey. Bring to a boil. Remove from heat and add jam or jelly
In a large bowl combine oats and sugar/oil/strawberry mixture.
Stir until oats are well coated and everything is combined.
Spread into 2 9×13 pans.
Bake at 350 degrees for 10 minutes.
Stir, turn off your oven, and put the granola back into the oven for 3-4 hrs. The heat left in the oven will finish cooking this. I love this because I can make this and walk away for a few hours without having to continually stir the granola.
Remove from oven after 3-4 hours. Let cool and store in an air tight container.
This post linked to Tasty Tuesday.