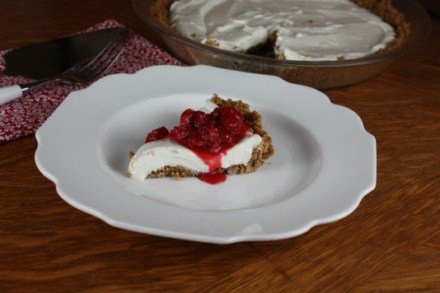 This is a perfect pie for summertime. It is a little lighter and healthier than many pies, but it still has a rich and creamy texture and taste.
This is really like a no bake cheesecake and it can be served with any type of fruit or fruit sauce. You can easily vary this by the type of fruit you serve with it and it is even good on its own.
The original recipe for this pie had it with a granola crust and that is how I served it, but you can easily make this same pie on a graham cracker crust.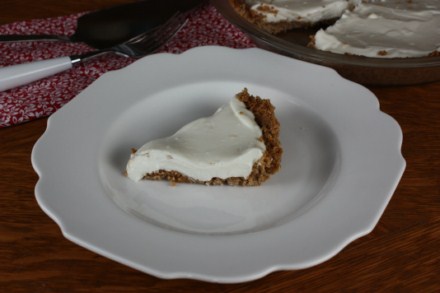 Yogurt Berry Pie
1 cup plain or vanilla yogurt ( I prefer vanilla)
8 ounces of cream cheese ( softened)
3 tablespoons of sugar
1 teaspoon vanilla extract
1 graham cracker or granola crust
raspberry sauce or other fruit sauce
Place yogurt in a fine mesh sieve or use a colander lined with cheese cloth. Let sit 30 minutes. Do not skip this step as it drains some of the liquid off and will help keep this pie thick. Discard liquid or use liquid in smoothie.
In a mixer beat cream cheese until very smooth. Add sugar and vanilla. Beat until smooth. Add strained yogurt and beat just until mixed in well.
Pour filling into crust and refrigerate for 6 hours or until firm.
Serve with a homemade raspberry sauce or another fruit type sauce. You could also use plain fruit or even a can of fruit sauce.
Adapted from Martha Stewart's New Pies and Tarts