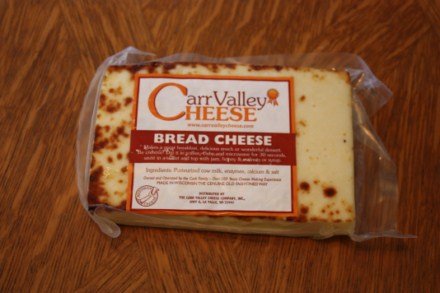 There is no guessing for today's What Is It Wednesday, but I do want to talk about a new cheese we tried.
Am I the only one that loves cheese?
Really, I think I could live on cheese. Well, actually I could live on cheese and chocolate, but not mixed together.
Cheese has been one of my favorite foods since I was a kid and I will eat it almost any chance I get.
I recently saw this Bread Cheese at the grocery store and knew I wanted to try it. I have never heard of bread cheese and it sounded very interesting.
I have no idea why this is called bread cheese. There is nothing bread like about it. It is just cheese and really good cheese.
It is hard to explain what this tasted like. It was a bit strong, but not too strong. It reminded me a bit of mozzarella, but stronger. When I searched online for information about bread cheese, I really could not find much information. I find a little information on Wikipedia. From what information I did find online though, bread cheese is a Finnish Cheese.
Although I really liked this cheese, like most cheese it is a bit pricey. It was nice to try, but I doubt we will be eating this often.
Has anyone else tried bread cheese? If so what are your thoughts?