In general I am not a fan of sweet potatoes. Yes, I will eat them fried, or as oven fries, and even occasionally in risotto, but besides that I would rather not have them.
I think the sweet potatoes covered with marshmallows that I grew up eating, did me in for sweet potatoes.
However, this soup is changing my mind when it comes to sweet potatoes. I really enjoyed this soup and it was a great way to get my kids to eat and enjoy sweet potatoes.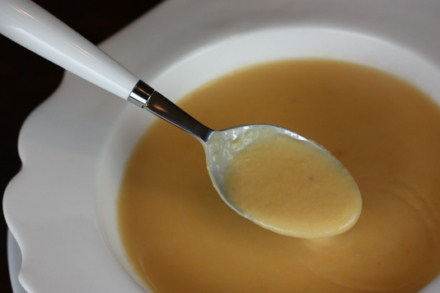 I think you will be seeing this soup on the menu often this fall and winter. It is so easy and so good. Not only that it freezes well, so I can make a large batch of it to use for lunches through out the week.
Do you like sweet potatoes?
Creamy Sweet Potato Soup
6 cups chicken broth
3 cups potatoes that have been peeled and cubed, this is about 3 potatoes
3 cups sweet potatoes that have been peeled and cubed, this is 2-3 sweet potatoes depending on the size
½ teaspoon seasoning salt
¼ teaspoon pepper
¼ teaspoon ground red pepper
1- 8 ounce cream cheese cut into cubes and at room temperature
4 slices of bacon that have been cooked and crumbled (optional, but good)
In a large pan place chicken broth, potatoes, sweet potatoes, salt, and peppers. Bring to a boil and reduce heat to low. Cook until potatoes are tender. This takes about 15 minutes, depending on how large you cut your potatoes.
Once potatoes are done puree the soup. You can either do this with a blender, be careful though putting hot liquid in your blender, or use an immersion blender.
Place soup back in pan and add cream cheese. Heat and stir until cream cheese is melted into soup.
Serve with bacon sprinkled on top.
Enjoy!