My long time readers will probably remember my What Is It Wednesdays series from a few years ago. It was a fun series and I have been thinking about bringing it back. A few weeks ago I asked on Facebook if I should bring it back and quite a few of you said yes you loved that series and learned a lot.
So, What Is It Wednesday is back and I am excited. And so is my family. My husband and girls love trying new foods and they are looking forward to trying some new things over the next few months.
For those of you that are new to how this worked here are some details.
Today I will share a picture, or pictures, of a food my family tried recently. Then my readers, that is you, can guess what the item is by leaving a comment on the post.
Reading through all the comments and guesses is the fun part of What Is It Wednesday. I love seeing how much you all know. And for those interested I have never had an item that no one could guess right. Someone always seems to know the answer. You all are smart when it comes to food.
Then next Wednesday I will tell what the item was, if my family liked it, and how I used it in cooking. Then the next Wednesday I will share another new item.
Now, I know some of you don't like to wait a week for the answer, but it really does work best because it allows enough time for everyone to guess. I know many of you read my site daily, but many of my reader just check in a couple times a week or they subscribe to my weekly updates instead of my daily ones. Waiting a week makes sure everyone has a chance to guess.
It also allows me a better schedule when it comes to my writing. I can just plan on Wednesday being the day I share a new food or answer the last one. It really does make it easier for me. I hope you all understand why I schedule it this way.
Now for this week's item.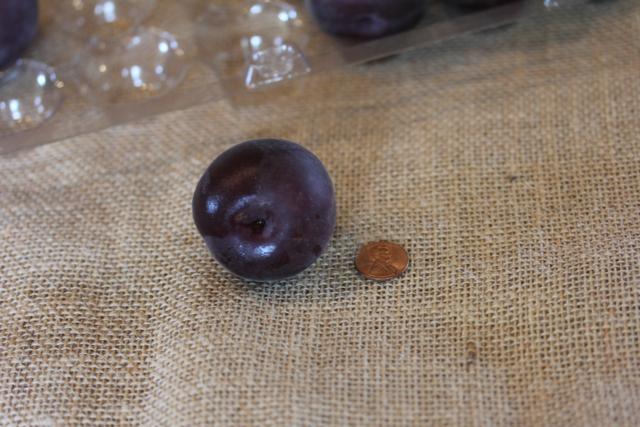 I recently found these at Sam's Club. I put one next to a penny so you could get a better idea of the size.
Here is a picture of it after I cut it.
I know this is a terrible picture, but I wanted you to be able to see the inside of it. This was very juicy and kind of fell apart when I cut into it to get a picture.
Now for the fun part.
Do you know what it is?