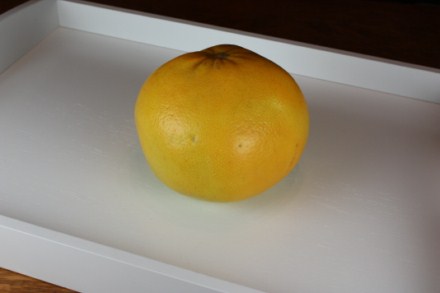 There is no guessing for this week's What Is It Wednesday, because I knew you all would guess what it was. However, there is a bit of a story behind buying it, which is a bit funny.
A few months ago when we were at Whole Foods my husband picked up a few things from the produce section for my What Is It Wednesdays posts. He picked out a white grapefruit and also this item today, which is a pommelo.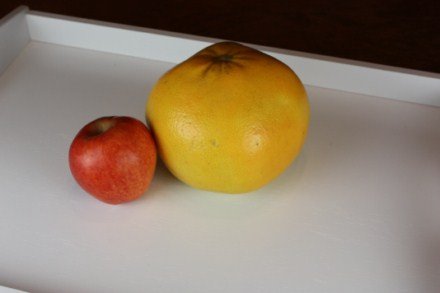 I told him to pick out a few things and I did not really pay attention to what he bought, because I did not think I needed to. He thought that both the white grapefruit and the pommelo looked good and when I saw them I thought they would work well.
We finished up our shopping trip and my husband paid for the groceries when we left. I really did not pay attention to the prices of what we had bought because we only picked up a few things.
A couple of days later when I was entering in a few receipts for our records, I came across the receipt from Whole Foods. I looked down to see that the Pommelo cost us over $6! And we only bought one of them. I don't think I have ever bought a piece of fruit, besides a melon, that cost over $6. And although a pommelo is large, it is not large enough to be worth $6.
Now, at first I will admit that I was a little bothered, ok maybe upset, that we had paid that much for a piece of fruit. However, to be fair to my husband, he never grocery shops. And by never, I really mean never. He rarely sets foot in a grocery store to go shopping by himself, and when he does it is just for a gallon of milk or something simple.
I have always done the grocery shopping. This does not mean my husband can't, it just means that he does not like to and I do. So, I have always done the shopping, but I am now seeing the downside of this. My husband has no clue that a piece of fruit should really not cost $6 and if it does it probably means we should not buy it.
So next time we go shopping for my What Is It Wednesday posts I will be paying better attention to the price of the items that my husband picks out. 🙂
I will say though that after I gave me husband a hard time about the price of it, he responded with a comment about it being the best piece of citrus fruit he has ever had and that it did weigh a few pounds, so it was not just any piece of fruit.
I am thinking I will just keep doing the shopping……..