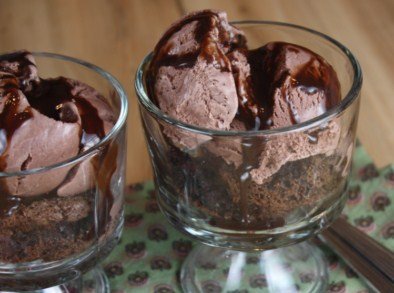 Braum's is one of my favorite places to go for an ice cream treat. My husband and I would often go to Braum's for a date when we were first married because it was much cheaper than eating a full meal out. And over the years it has also become on of my kid's favorite places to get a treat.
One of my favorite things to order at Braum's is their hot fudge brownie sundae. I have loved it since I first tasted it years ago.
I mean how can you go wrong with a fudgy brownie served with ice cream and hot fudge sauce. YUM!
However, with a family full now full of food issues, including a nut and peanut allergy, eating out for ice cream in almost impossible.
But if you know me, then you know I love to recreate our favorites at home. From orange julius and Jamba Juice, to homemade Frappuccino and our favorites at Chipotle, I love to recreate them all. And a Brownie Fudge Sundae was so easy to recreate at home.
After all it is just a brownie, ice cream, and fudge sauce, with a little whipping cream on top. And not only was it easy to recreate it was also much cheaper.
I can probably feed my whole family a brownie fudge sundae at home for the price of one or two at Braum's. Now I would not discourage you from trying the Braum's version because they really are good. I am just keeping it real here and it is much cheaper to make them at home.
These brownie sundaes are not really a recipe. There are basically a nice fudgy brownie covered with ice cream and chocolate or fudge sauce. And if you have whipping cream and a cherry it will be even more like the real thing.
These are so good and make a perfect summertime treat.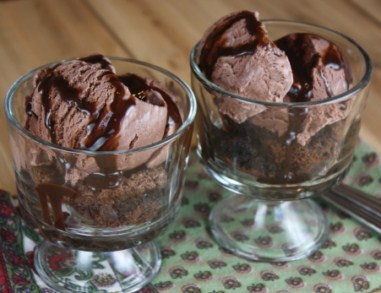 Brownie Fudge Sundae
brownie- I use either homemade or my homemade gluten free brownie, but you could use a box mix also. Just use your favorite brownie.
ice cream (we like vanilla or chocolate)
hot fudge sauce– I like homemade, but any hot fudge sauce will work.
whipped cream (optional) (I did not have any the day I took the picture and they were still very good.)
maraschino cherries (optional)
Place brownie in a cup or bowl.
Scoop ice on top.
Drizzle with fudge sauce.
Top with whipping cream and cherry if using
Enjoy!