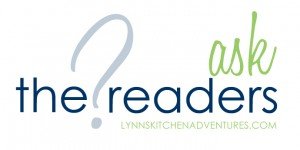 Some of you may not know that I have some help here on Lynn's Kitchen Adventures. It is not much, but the couple of hours a month my VA ( virtual assistant) helps me with my Facebook page and other tasks, makes my life so much easier. It was especially helpful the last few weeks when I was visiting my family in Oregon. It allowed me to take some time off without anything really changing here on my site.
When my VA recently mentioned that she needed to buy a new toaster oven I knew it would make a great Ask the Readers question. In the past we have talked about alternatives to milk, double ovens, freezer containers, rice cookers, and more, but never toaster ovens.
I don't own a toaster oven, but I know many of you do and you all have been so helpful in the past with questions like this. So can you help her out? She really wants to know what the best toaster oven to buy is.
Do you have a toaster oven you love? We would love to hear what brand it is. And please feel free to share your thoughts on what you like or don't like about your toaster oven.