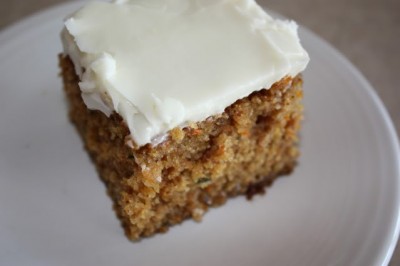 We like dessert in our house and I like to bake desserts. But I also like to eat and cook healthy. So, anytime I can combine the two and make a dessert that is semi healthy I do. This cake is one of those. It is really good, it is easy, it looks nice when served, and it is a little healthy.
I first heard about this recipe from my sisters. They had made it quite a few times and kept telling me about it. They all loved it. It originally came from Taste Of Home sometime back in the 90's.
If you do not like the idea of zucchini and avoid recipes the call for it, try this one. It is really good and might just make you a fan of zucchini.
The title says whole wheat zucchini cake, but you can use all regular flour if you like.
Carrot Zucchini Cake
4 eggs
2 cups sugar
1-1/3 cups vegetable oil
2-1/2 cups all-purpose flour ( I used 1 cup whole wheat and 1 ½ cup all purpose flour)
2 teaspoons baking soda
2 teaspoons baking powder
2 teaspoons ground cinnamon
1 teaspoon ground cloves
1 teaspoon ground allspice ( I leave this out because my husband does not like it)
1 teaspoon ground ginger
1/2 teaspoon ground nutmeg ( I leave this out because my husband does not like it)
1 teaspoon salt
2 cups finely shredded carrots
2 cups finely shredded zucchini
1 cup coarsely chopped pecans or walnuts (optional, I leave these out because some in my family do not like nuts)
Directions:
In a large bowl beat eggs and sugar until frothy. Gradually beat in oil. Combine dry ingredients; add to batter. Beat 4 minutes. Stir in carrots, zucchini and nuts. Pour into three greased 9-in. round baking pans. Bake at 350° for about 35 minutes or until top springs back when lightly touched. Cool 5 minutes before removing from pans. Cool thoroughly on a wire rack.
When completely cool frost with my cream cheese frosting, then cut and serve.
For more recipes and ideas see Tasty Tuesday.