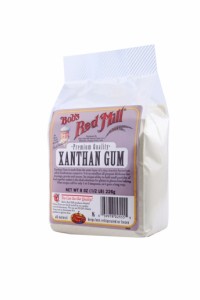 One of the things that I have learned since cooking and baking gluten free is that there is no one magic flour blend that replaces regular flour. A blend that works for pancakes may not work well for cookies or breads.
The first few months I baked gluten free I had many disasters, but I think many of my failures were because I was trying to make one blend work for everything.
The more I have baked gluten free, the more I have realized how much science is behind gluten free flours and how they work.
Most of the recipes for flour blends include xanthan gum, but I have realized that xanthan gum does not work the same in everything. Some items need more xanthan gum than others.
For example, bread needs more than pancakes. By using one blend that contained a certain amount of xanthan gum, I was causing myself to have more failures.
Figuring out the correct amount of xanthan gum has helped me so much. I read an article by Bob's Red Mill recently that confirmed my thoughts on this. They posted on how both xanthan gum and guar gum work. They also posted several charts listing the amounts needed for various baked goods.
Here is the chart they posted for xanthan gum and I have found these amounts to work well. Their post is full of information and I highly suggest you read the whole article.
How much Xanthan Gum for Gluten Free Baking?
Cookies………………………………¼ teaspoon per cup of flour
Cakes and Pancakes………………..½ teaspoon per cup of flour
Muffins and Quick Breads………… ¾ teaspoon per cup of flour
Breads……………………………….1 to 1-½ tsp. per cup of flour
Pizza Dough…………………..…… 2 teaspoons per cup of flour
For Salad Dressings…Use ½ tsp. Xanthan Gum per 8 oz. of liquid.