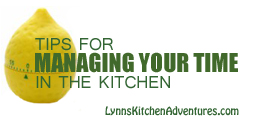 Today's tip for managing your time in the kitchen is a simple one, but one that many people skip.
Grocery shopping is a necessity of kitchen life and my number one tip for saving time while grocery shopping it to take a list. The time it takes me at home to sit down and make a list is well worth the time it saves me at the grocery store.
Without a list I will be much more likely to forget something, which will then mean an extra trip or two to the store.
Not only will I be more likely to forget something, wandering around the grocery store trying to remember what I need, or what I am going to be cooking that week, is a waste of my time. If I have a list it is much easier to go to the store, get what I need, and get out quickly.
Having a list also keeps me on track. It keeps me focused on what I need. I spend less time and money on things that I do not need when I have a list.
Do you shop with or without a list?