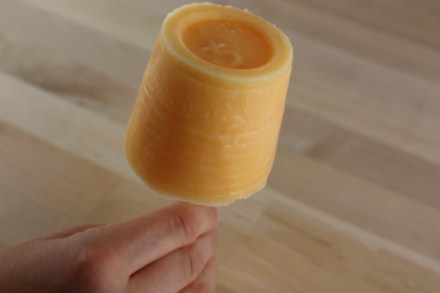 My ten year old daughter has really taken an interest in cooking lately. She has asked several times recently if she could look through my cookbooks just to see what she could find. I think I may just have a fellow foodie in my daughter.
All too often though, I am in a hurry in the kitchen, and don't take the time to let my kids cook with me as much as I should.
So, one of the things that I have been trying to do is to let them pick things that they want to cook. Instead of helping me cook something that I choose, I let them choose something that we can cook together.
My daughter recently came to me after looking through Paula Deen's My First Cookbook
for kids (which my girls love), and asked if she could make the yogurt pops that were in the book.
I looked at the recipe and knew this would be an easy and fun recipe for us to make. After thinking about it though I decided to let her tackle this one alone. She was thrilled to be able to cook something without me even being near the kitchen and I was thrilled to let her.
These really were easy and she did a great job on them. A child much younger could easily tackle these without much help.
These actually are great for anyone to make. They are a quick, easy, frugal, and healthy snack for kids.
We did these in small paper cups and used popsicle sticks because my daughter wanted to follow the directions exactly, but if you have popsicle-type molds those would also work well.
Yield: 6 servings
Yogurt Pops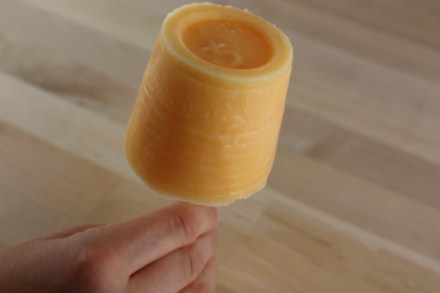 A fun and delicious treat for kids and adults.
Total Time
4 hours
5 minutes
Ingredients
One 8-ounce carton of yogurt, any flavor ( we prefer vanilla)
½ cup orange juice
1 Tablespoon honey
Instructions
Into a bowl, stir together the yogurt, orange juice, and honey. Pour the mixture into 3-ounce paper cups or popsicle mold.
Place in the freezer. If using small cups you may need to set the cups into a pan and you will need to check on the yogurt cups in about an hour. When they have begun to freeze, put the stick in the center of each one.
When they are solid and ready to eat, just peel the cup away or remove from popsicle container and enjoy.
You can also just freeze the yogurt in the cup with no stick and eat it with a spoon, like an Italian ice. Let it sit at room temperature for about 10 minutes before you start eating so it's not so hard.
Nutrition Information:
Yield:
6
Serving Size:
1
Amount Per Serving:
Calories:

44
Total Fat:

1g
Saturated Fat:

0g
Trans Fat:

0g
Unsaturated Fat:

0g
Cholesterol:

2mg
Sodium:

27mg
Carbohydrates:

8g
Fiber:

0g
Sugar:

7g
Protein:

2g
Nutritional values are approximate and aren't always accurate.