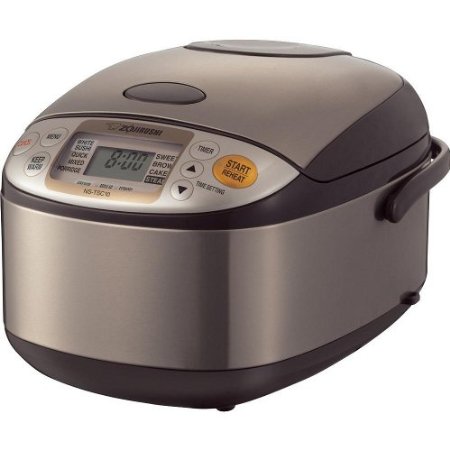 Earlier this year I posted an Ask The Readers question about rice cookers. I was looking for a new rice cooker and knew you all would have some thoughts on the subject.
And you did. I loved all the comments on that post and it really helped me in deciding what to buy.
I recently received an email from a reader who was wondering what rice cooker I ended up buying, which made me realize that I never did a follow up post about the rice cooker I ended up buying.
I know, I know, I was a bad blogger and did not follow up on that. So, here is the post I should have shared months ago. At least I made it in time for holiday gift giving.
When I wrote my post on rice cookers earlier this year I made this statement.
I keep wondering about the Zojirushi Rice Cooker. The prices are really high on the Zojirushi ones, so not sure I could justify it for an appliance I use once a week or so. I mean really, why would a rice cooker cost that much?

I am thinking it must be the Vitamix of rice cookers or what Kitchen Aid is to mixers. Anyone have a Zojirushi to give thoughts on it? I am really wondering why a rice cooker would cost that much.
When I made that statement I truly could not see why a rice cooker would cost so much. After reading all your thoughts on Zojirushi Rice Cooker
though, and having so many of you state that you have had yours for years and years, I knew I needed to check into Zojirushi more.
I know the value of good kitchen tools. I love my Kitchen Aid and Vita-Mix so the thought of having a rice cooker that was a work horse like those, and that would last for years and years, really appealed to me. I knew that buying a new rice cooker every few years would add up, and that it might be worth it to spend more to get a better longer lasting appliance.
Even my brother in-law shared his thoughts on rice cookers and what I should get. So after taking everyone's thoughts into consideration, I decided to spend the money on a Zojirushi Rice Cooker
. And I don't regret it at all. I love it.
I got the Zojirushi 5-1/2-Cup
. I probably could have gotten the smaller size, but we eat a lot of rice. And that is 5 1/2 cups of uncooked rice that it holds. That ends up being a lot of cooked rice. I like to have leftovers for fried rice and cheesy baked rice, and I have three kids, so it seemed wise to get the bigger size.
Even after I placed my order for the rice cooker I had second thoughts about spending so much on a rice cooker. I mean really it is just a rice cooker, right?
But after a few uses I was sold on the Zojirushi. It cooks like rice like no other rice cooker I have had. It cooks it perfectly. It has various settings for different kinds of rice and it cooks them all perfectly. I have yet to cook something in this that I did not like. Perfect rice every time.
I also love all the settings it has, along with the delay and the keep warm feature. In other rice cookers I have had the keep warm feature ends up burning the rice, but not in this one. It truly keeps it just warm and does not over cook it.
I use it for my rice cooker macaroni and cheese and for cooking quinoa and it works great using the quick cook setting for both.
I will say though that this is not the rice cooker for everyone. I mean really, it is not an inexpensive kitchen item to buy. If you are going to spend that much money on a kitchen appliance, it needs to be one you use often.
Since we are gluten free we eat a lot of rice. Last time I bought rice, I bought it in a 50 lb bag. Yes, 50 lbs. I told you we eat a lot of rice.
We eat it in Mexican food, Asian food, desserts, and I often use it in place of pasta when serving a meal with a gravy or similar type sauce. We also love it for eggs and soy sauce over rice.
I can safely say we eat a lot of rice and I will get my money's worth out of this rice cooker, but if you only eat rice once a month, this rice cooker is probably not for you. Yes, it will give you perfectly cooked rice, but I doubt it will be worth the money if you use it only twelve times a year.
However, if you cook a lot of rice, and have had rice cookers in the past that you have not been happy with, I suggest looking into the Zojirushi Rice Cookers
.
And if you are looking for a rice cooker or are just curious about them, be sure to read the comments on my original post to see what others have to say about rice cookers. I think you will find the comments helpful.