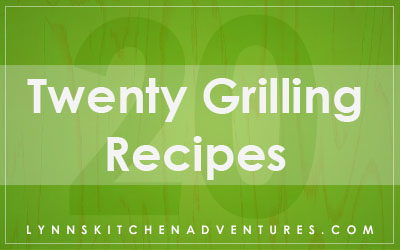 I know the calendar says that summer is almost over, but there are plenty of days left for summertime grilling. And if the weather where you are, is anything like our weather here in Oklahoma, grilling season will last several more months.
Today I thought I would share with you twenty grilling recipes that are perfect for end of summer grilling. Really though these are perfect almost anytime that the weather is nice enough for grilling.
1. BBQ Chicken with Pineapple Bacon Salsa from Two Peas & Their Pod ( You know I love bacon and this is a fun way to use it.)
2. Honey Lime Grilled Chicken from Mommy's Kitchen.
3. Grilled Chicken Fajita Sandwiches from Food For My Family.
4. Pizza Kebabs are a new favorite for my family.
5. Grilled Zucchini from The Happy Housewife.
6. Grilled Ribeyes with Blue Cheese Butter from Southern Fairytale ( Rachel might just convince to learn to love blue cheese with this recipe. It looks so good!)
7. Grilled Nachos are a favorite in our family. We love these!
8. Beer Marinated Flank Steak with Tomato Peach Salsa from Cookin' Canuck.
9. Asian Steak Kebabs from Once A Month Mom.
10. Steak with Chipotle Butter is one of my husband's favorite ways to eat steak.
11. Grilled Vidalia Onions from Mommy Hates Cooking.
12. 5 Ways To Grill Potatoes from $5 Dinner Mom
13. Grilled Beef Taquitos from $5 Dinner Mom.
14. Steak with Chili BBQ Sauce From In Flora's Kitchen.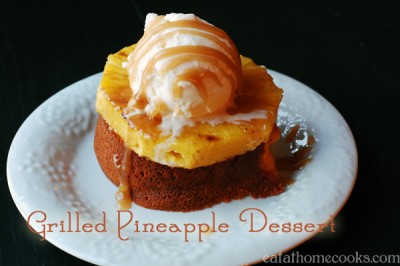 15. Grilled Pineapple Dessert from Eat at Home Cooks. ( Dessert on the grill?! Perfect!!)
16. Lemon Pepper Grilled Chops from Mommy's Kitchen.
17. Grilling in Bulk from Balancing Beauty and Bedlam.
18. Spicy Buttermilk Chicken is so easy and so good.
19. Spice Rubbed Grilled Pork Tenderloin from Good Cheap Eats.
20. My grilled vegetables are the perfect summer side dish.
What is your favorite end of summer food to grill?