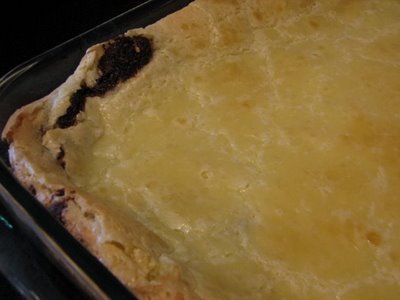 This recipe came from a friend from dental school. She brought these to several gatherings. Once I tried them I knew I had to get the recipe. I love these. They are so good. I don't make them very often because I eat way too many when I do.
Last week I made these to send to work with my husband. I made one pan for him to take and one pan for us to eat. I really should not have made a pan for us because I ate more than I care to admit. 🙂 They are that good.
This recipe is similar to what Paula Deen calls Gooey Butter Cake. I got this recipe at least 12 years ago and that was long before Paula Deen was popular, but they are basically the same. Paula Deen's recipe has more butter in it and is cooked at a different temperature. I actually like this version better. I think the texture is better on these.
I like these best with a chocolate cake mix, but you can use a yellow, butter pecan, or any other kind you like. I like to put pecans in it if I use a yellow cake mix. But I prefer the chocolate without the nuts. These are also best when completely cooled. I think they are actually best the next day because the cream cheese layer has set up better. But either way they are really good.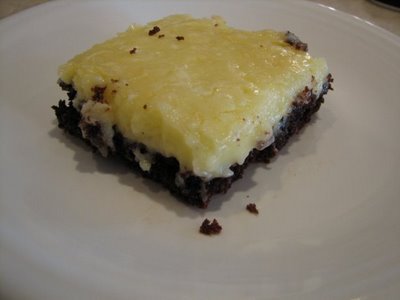 Neiman Marcus Bars
1 egg
1/2 cup butter, softened
1 chocolate cake mix
8 ounce cream cheese softened
3 eggs
1 teaspoon vanilla extract
1 pound powdered sugar
1 ½ cups pecans, chopped (optional)
Combine 1 egg and ½ cup butter and beat well. Add cake mix and mix until well combined. Press into greased 9×13 pan.
In a bowl combine cream cheese and 3 eggs. Beat until combined well and then add powdered sugar and vanilla. Mix together well and spread over cake mix layer. Sprinkle with pecans.
Bake at 300 degrees for 50-55 minutes or until center is set. You do not want to over bake these. Cool completely and cut into squares.
For more great recipes and ideas see Tammy's Recipes,
Tempt My Tummy Tuesday
, and
Blissfully Domestic
.