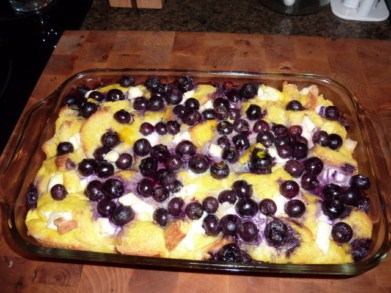 Today I am very excited to have my sister Evie guest posting. Evie is a great cook and she loves spending time in the kitchen. She does not have a blog, so I have convinced her to share several of her favorite recipes with my readers over the next few months. The recipe that she is sharing today is one that my sisters and mom have been making for years. It is very good and the perfect breakfast for the holidays.
During the busy holiday season, I love recipes I can make ahead. This is a family favorite for breakfast or brunch and you can do all of the work the night before! In recent years, my mom has started making this for Christmas morning.
I used farm fresh eggs, so the batch in the picture looks is a little more yellow than it does with store bought eggs.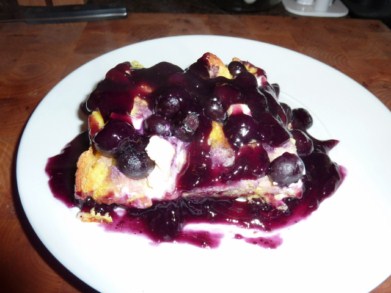 Overnight Blueberry French Toast
French Toast:
8 slices day old bread (French bread works best)
4 oz. cream cheese (reduced fat works)
1 c. fresh or frozen blueberries
6 large eggs
1 ½ c. milk
1/4 c. pure maple syrup
Cut bread into 1 in. cubes.
Place ½ of bread in a greased 9×13 pan.
Cut cream cheese into ½ in. cubes, place over bread.
Top with blueberries, then remaining bread.
In bowl, beat eggs. Stir in milk and syrup.
Pour over bread.
Cover and refrigerate overnight.
Remove from refrigerator 30 min. before baking.
Cover with foil and bake @ 350 for 20 min. Uncover and bake an additional 20-25 min, until golden brown and center is firm/set.
10. Serve with blueberry sauce (or a can of blueberry pie filling)
For the Sauce:
1 c. sugar
2 TB corn starch
1 c. water
1 c. blueberries
1 TB butter
Combine sugar and corn starch, add water and stir until dissolved.
Bring to a boil over medium heat. Boil 3 min. stirring constantly.
Add blueberries and reduce heat.
Simmer 8-10 min, or until blueberries burst.
Remove from heat, add butter and stir until melted.
Serve over French toast
If you make the sauce the night before: cool, refrigerate and reheat in the morning.
Thank you for sharing your recipe Evie!
This post linked to Foodie Fridays.