Need an easy breakfast or breakfast for dinner recipe? Breakfast casserole is a simple breakfast or breakfast for dinner recipe. It contains five ingredients and can be made gluten free.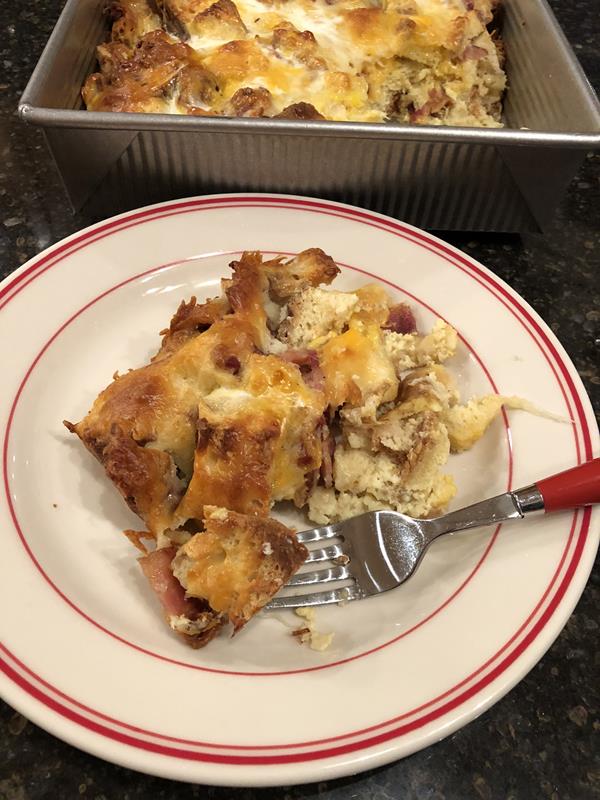 Breakfast casseroles and bread pudding type of recipes were pretty much made for using up inexpensive everyday ingredients.
I think they are the best way to use up bread that is not super fresh or that has been in the freezer too long. Have extra milk, eggs, and cheese make a breakfast casserole. If you have bacon, sausage, or ham that needs used up add it in.
Last week our refrigerator went out. We have a fridge in the garage, so thankfully I still had a fridge, but I was still dealing with extra food that needed to be used up.
As I was going through the food that needed used up, I realized breakfast casseroles would be a great way to use up the ingredients I had.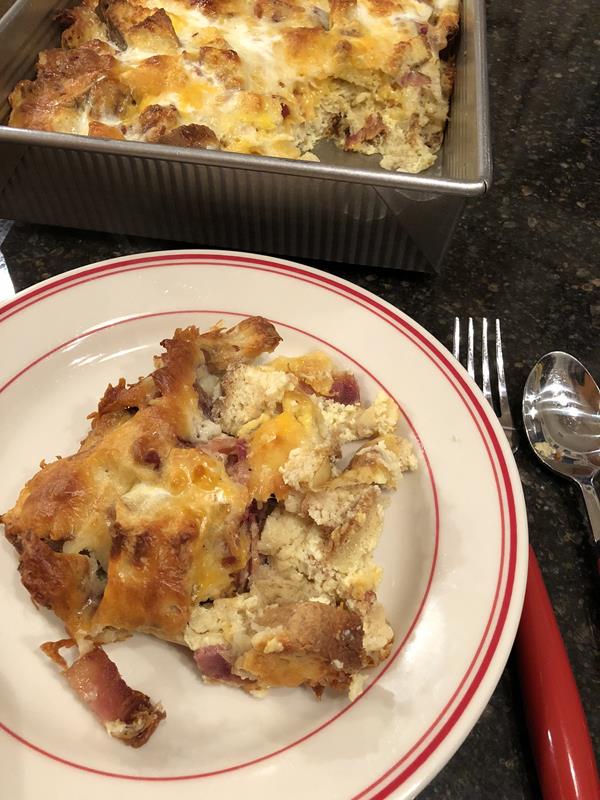 I had milk, eggs, and cheese, plus some bread and fruit from the freezer. I also had several packages of cream cheese that were close to the expiration date, so I wanted to use some of it as well.
I decided to make a fruit breakfast casserole and more of a savory one. I made one with bacon and cheese and I used the cream cheese and fruit for the other one.
I kind of made up the recipes with what I had, but they turned out great. They turned out so good that I knew I had to share the recipes with you. Today I am sharing the meat and cheese version. I will share the fruit one soon.
Coming up with these breakfast casseroles was a reminder for me that forced creativity often gives you the best recipes.
It is also a reminder to use what you have. Recipes don't have to be fancy. You don't have to run to the store to make simple meals. If you always have a few basic ingredients on hand you can make easy and delicious meals for your family.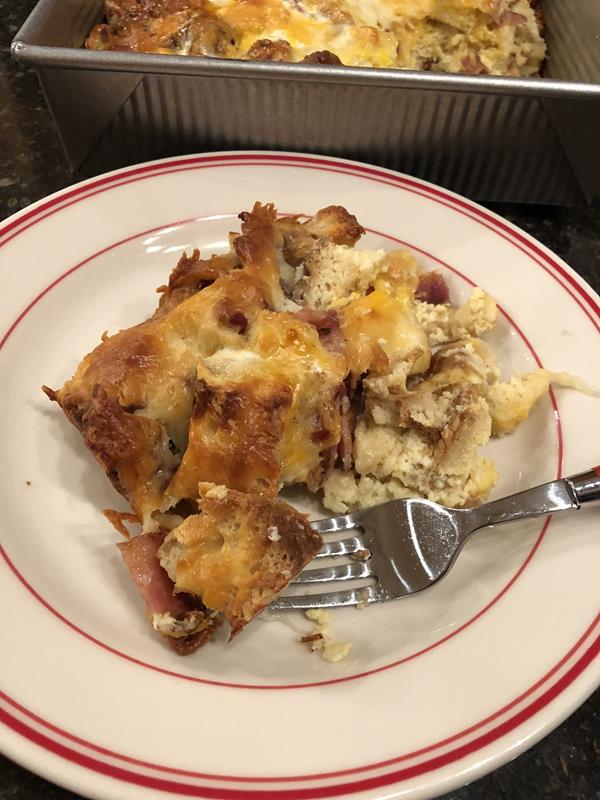 I did do a few things differently than the normal breakfast casserole for this though. The main thing was that I didn't let it sit overnight like most recipes call for you to do. I just made it and baked it because I couldn't store it in the fridge.
I have actually done this before and have found that my family likes the texture better when I bake them right away or only let them sit for a short time. If you want to make this ahead and let it sit in the fridge overnight and bake it in the morning go right ahead. It will have a little different texture, but it will still be delicious.
Need more easy make ahead breakfast recipes?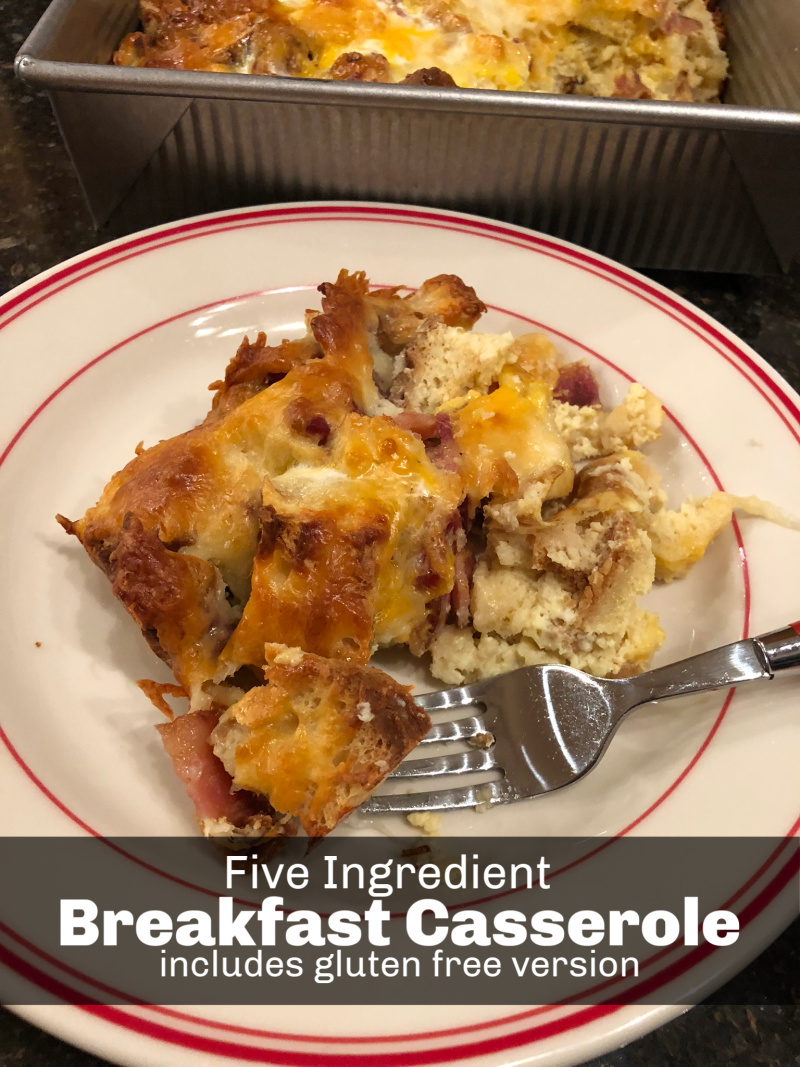 Yield: 8 -10 servings
Breakfast Casserole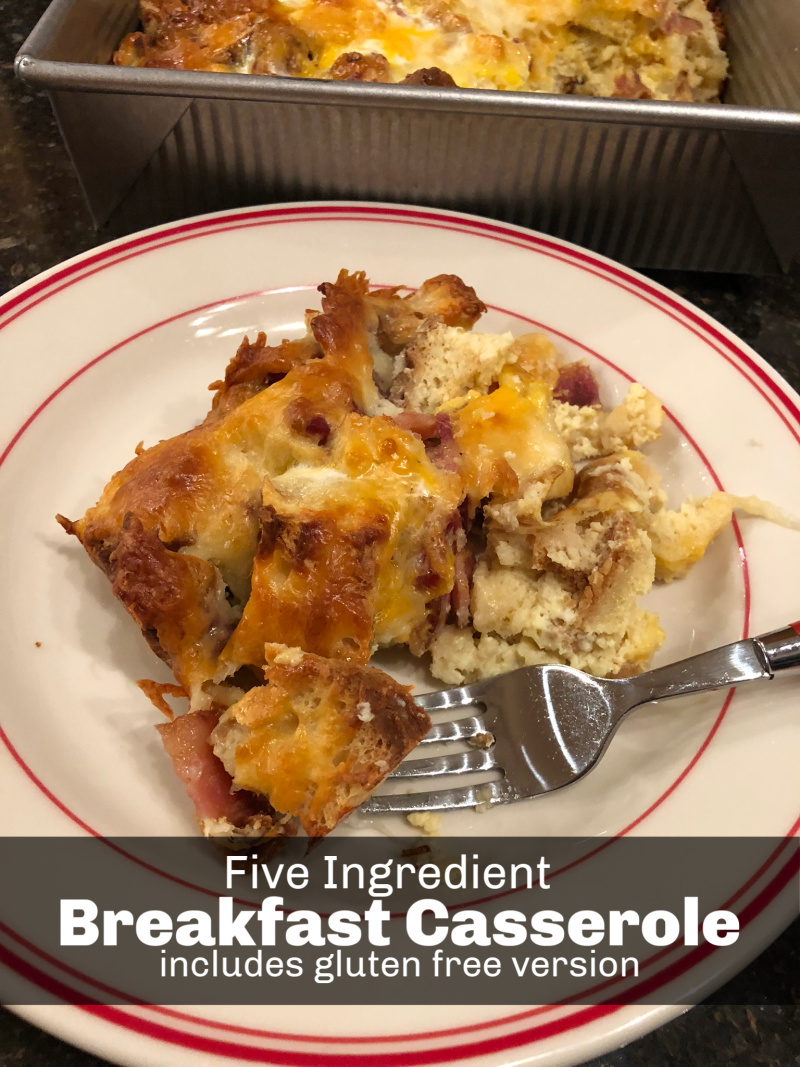 Easy breakfast casserole that contains five ingredients and can be made gluten free.
Ingredients
1- 2 cups cooked breakfast sausage, bacon, or ham
8 eggs
2 cups milk
8 cups cubed bread, about 3/4 - 1 inch pieces ( gluten free bread works fine)
2 cups shredded cheddar, jack, or colby jack cheese
Instructions
Heat oven to 350 degrees.
Grease a 9x13 Pyrex pan or casserole type dish.
Place cubed bread in baking dish.
Sprinkle with cooked meat and cheese.
In large bowl or measuring cup whisk together eggs and milk.
Pour egg mixture over bread mixture.
Press down on the bread to make sure all the bread had been coated with the egg mixture.
Bake for 45-48 minutes or until center is set and done.
Let stand for 5-10 minutes before serving.
Notes
This can easily be made gluten free. I use gluten free bread and it works great. Be sure to read labels to make sure your meat is gluten free.
This can also be made ahead. My family likes the texture better when it is baked right away, but you can refrigerate overnight and bake in the morning.