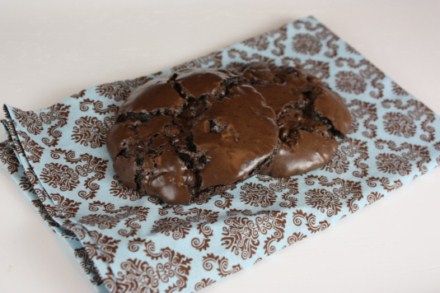 These flourless chocolate cookies are so good and they are flourless, so they are perfect for gluten free cooking.
Since going gluten free I have seen quite a few flourless cookie recipes, but many of them contain nuts or peanut butter, both of which we can no longer have.
So, I set out to adapt a recipe to be flourless without the nuts. I found several flourless chocolate cookies and tweaked the recipes to get them just right. And what I came up with was a cookie that my family loved.
There is one trick to these though and that is you must use parchment paper. Do not skip that step or your cookies will spread and become very hard and difficult to remove from your cookie sheet.  However, if you use parchment paper it works just fine.
These cookies are great just like they are, but I have also added a little coconut to these and we really liked that version also.
Flourless Chocolate Cookies
Instructions:
Preheat oven to 325.
Mix together sugar, cocoa, and salt. Stir in chocolate.
Add egg whites and mix just until incorporated.
Drop onto cookie sheets that have been lined with parchment paper (do not skip the parchment paper)
Bake for 20-24 minutes. I know this is a wide range, but check them at 20 and cook for a few minutes more if needed.
Let cool about 5 minutes and remove from cookie sheet and finish cooling on a wire rack.