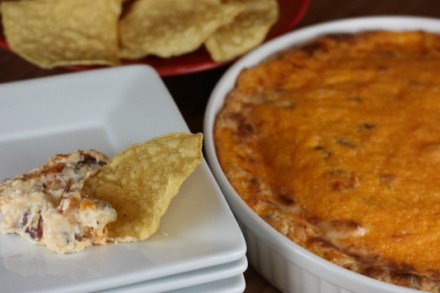 I made this bacon cheddar dip three times over the holidays and I never got a picture of it. Every time I made this dip it was gone before I could get a pictures. I guess that is a sure sign of a really good recipe.
I also got asked for the recipe every time I made this, which is another sign of a good recipe.
Since I never got a picture over the holidays, and I really wanted to share this recipe before Super Bowl Sunday, I decided over the weekend that my family would have to eat this one more time. Yes…..I know being related to a food blogger is a tough job, but they suffered through eating this one more time for me.
This recipe is our new favorite chip and dip type recipe. We all love it. I mean it has bacon, cream cheese, and cheddar cheese in it, what is not to like about it. (And I said it was good, not healthy. 🙂 )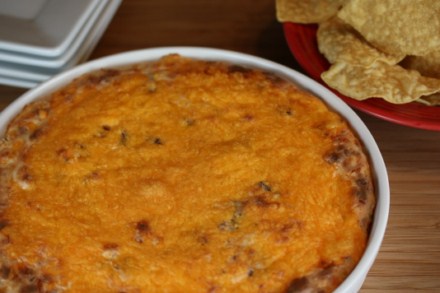 I like to serve this with chips, but it works great with crackers as well. Really anyway you serve this it will be good. It is also really easy to half this recipe if you are not serving a large group.
Bacon Cheddar Dip Recipe
2 ( 8 ounce) packages cream cheese, softened
2 cups sour cream
1 small onion, finely chopped
2 tablespoons mayonnaise
1 lb bacon, cooked and crumbled
4 cups shredded cheddar cheese
In a bowl beat together cream cheese, sour cream, onion, and mayonnaise.
Stir in bacon and 3 cups of cheese.
Spread into a baking dish. I use an 11×7 Pyrex, a pie plate, or similar size.
Sprinkle with remaining cheese.
Bake at 350 degrees for 25 minutes or until lightly browned.
Adapted from Taste of Home