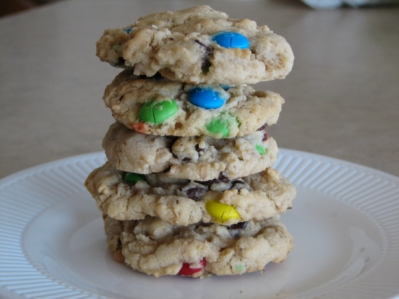 The cookies have nothing to do with the post, but I needed a picture for this post and I love the picture and the cookies. The recipe for the cookies came from my best friend's mom and you can find the recipe here. They are really good.
Today I wanted to answer a few questions that you all have asked recently. Some came up in my recent survey and others have been emailed to me. If you have a question that I have not covered here, please leave it in the comments and I will try to deal with it in a future post.
Could you share more tips on how to save time in the kitchen?
I have had something in the works dealing with saving time and money in the kitchen for a while now and I will share more details tomorrow about a new series that I am starting.
Could you share more homemade granola and baked oatmeal recipes?
I am working on this one also, mainly because my family loves both homemade granola and baked oatmeal, so stay tuned for some new versions of those this fall and winter.
I hardly ever see any veggies or fruits to go with your entrees. Could you please tell us what you fix to go with these dishes you feature?
I am the first to admit that side dishes are not always that exciting in my house. One of my goals for this year was to work on being more creative and healthy with my side dishes and I have not done a very good job in that area. I have found a few new family favorites and I hope to continue finding more and will share them as I find ones that we enjoy.
In the mean time I do have a whole category for side dishes and one for vegetables that have quite a few family favorites in them.
Please share how you cook bacon.
I have actually worked on this in the past, but the photos and video I did need some work. As in I need to do them again because they did not turn out that well. I will try to do that soon because quite a few of you have asked for this one.
Thanks for keeping it real and posting your mistakes and your real life. We want to see more.
Don't worry, I am all about keeping it real. I make mistakes, I have kitchen disasters, I use a lot of kitchen shortcuts, and I cannot do it all. I am busy like all of you. This site is a pretty good picture into my kitchen life and I plan to keep it that way. The real life mistakes, overwhelming times and all.
Could you please share more about your life and family?
This one surprises me. Do you really want to hear more about my life and family outside of the kitchen? Since this is a food site I have pretty much kept it related to the kitchen, but I could share a few more non food things if there is interest in that. What do you think?
I have had a few questions about my allergy section and eating gluten free.
If you are new to my site you can read my gluten free story here. Our family eats mainly gluten free, because several in our family eat gluten free. My main site is not gluten free, but majority of the more recent recipes are gluten free. They are just normal food, that happens to be gluten free as long as you read labels and check ingredients.
The Chili Corn Dog Pie I shared last week is gluten free if you use gluten free cornmeal, hot dogs, and chili. Apple Pie Oatmeal is gluten free if you use gluten free oats. Roasted Tomatoes and Pasta is gluten free if you use gluten free pasta. And you will find many more recipes like those on my site. Regular food that happens to be gluten free.
You can read more about how we deal with some eating gluten free and some not here.
My site is not 100% gluten free, so please keep that in mind when looking through the archives. If you want more gluten free baked goods, breakfast ideas, etc., please check out my allergy section.
Have any other questions? Share them in the comments and I will try to answer them in the comments or in another post in the future.