I love old jars and bottles. I have been collecting them for awhile. I have a few of my favorite ones on display in my kitchen. I picked a few out to show you today. I have collected most of the ones I have at garage sales, but a few have been given to me by friends.
The little green Squirt pop bottle is my favorite of my whole collection. I love it. My mom had it for years and then she gave it to me. Part of why of love it so much is because it is my dad's favorite pop. It is supposed to be used as a salt shaker, but it is to "nice" to be used for that. I just keep it on display.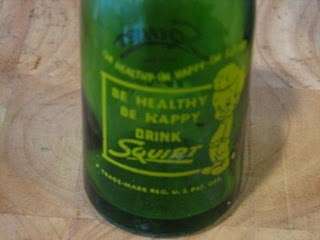 I like what it says on the back, be healthy, be happy, drink squirt. I am not sure pop should be considered healthy but maybe years ago it was.
For more antique things see Antique Thingies Thursday and Show and Tell Friday.