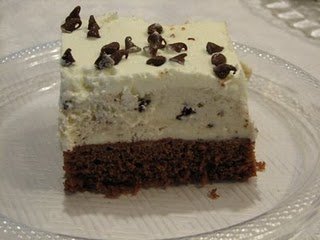 We have made this ice cream cake for several Birthdays. It is always a hit. We made it for my husband's birthday one year with peanut butter ice cream and Reese peanut butter cups on top. My kids and sister made it one year of my birthday using cookies and cream ice cream and oreos on top. I think this would be really good with mint chocolate chip ice cream.
Last week my kids helped me make it for my father in law's birthday. He loves chocolate chip ice cream but is not a fan of cake. I thought this dessert with Braums chocolate chip ice cream would be perfect for his birthday. Plus, it is a dessert that is easy for the kids to help me with. It has several steps but it is easy.
Williams-Sonama Ice Cream Cake
This recipe is adapted from Williams Sonoma Kids Baking Book
1 cup flour
1/4 cup unsweetened cocoa
2 teaspoons baking powder
1/4 teaspoon salt
3/4 cups sugar
3/4 cup warm water
1 egg
1/3 cup oil
1 tablespoon vanilla
1/2 gallon of ice cream (your choice)
1 1/2 cups heavy cream
1/4 cup powdered sugar
1 teaspoon vanilla
Topping of choice, depending on ice cream you use. You can use peppermints, oreos, choc. chips, etc.
Preheat oven to 325 degrees. Put flour, cocoa, baking powder, and salt into a large bowl. Stir in sugar and whisk together. In a separate bowl whisk together water, egg, oil, and vanilla until blended. Mix together with dry ingredients until just blended. Pour into greased 9×13 pan. Bake for about 20 minutes or until toothpick inserted into center comes out clean. Let cool completely.
Remove ice cream from freezer and let it soften for about 15 minutes. Drop spoonfuls on cake and spread careful to cover cake. Cover with plastic wrap and let freeze for about 4 hours or until firm.
Whip cream and powdered sugar until thicken and peaks form. Spread over ice cream layer. Sprinkle with topping of your choice. Freeze for 1-2 hours. Remove from freezer 15 minutes before severing. Cut into squares and enjoy.