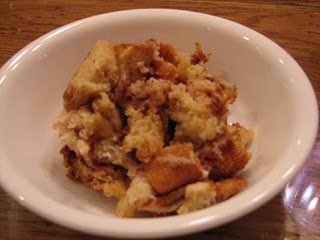 If you like bread pudding you will like this recipe. Bread pudding seems to be one of those things you either really like or you really don't. My mom loves it, my dad hates it. My family likes it, so I usually bake it when I have some bread that needs used up.
That was the case recently. I had a loaf of cinnamon bread that was in the freezer. It was a little to freezer burned to eat plain but it worked great for this recipe.
I have a really good chocolate bread pudding that I hope to post soon. It is really good. So stay tuned for that.
I found this recipe in a Taste Of Home cookbook. The original recipe calls for cinnamon rolls but I used cinnamon bread. I also omited the raisins. This was best the warm the first day. It was good warmed up the next day but it is the best eaten right away.
Slow Cooker Bread Pudding
8 cups cubed day-old cinnamon bread
4 eggs
2 cups milk
1/4 cup sugar
1/4 cup butter, melted
1/2 teaspoon vanilla extract
1/4 teaspoon ground nutmeg ( I left this out)
1 cup raisins ( I left this out)
Place cubed cinnamon bread in a 3-qt. slow cooker. In a small mixing bowl, combine the eggs, milk, sugar, butter, vanilla and nutmeg; beat until smooth. Stir in raisins in using. Pour over cinnamon rolls; stir gently. Cover and cook on low for 3 hours ( mine took about 2 hours ) or until a knife comes out clean. Yield: 6 servings.
For more slow cooker recipes see Slow Cooking Thursday.