This is one of those, it is so easy, I am not sure I should post it, recipes. It is also one of those I assume everyone knows about it recipes.
But I am learning that you all love the recipes that are so easy they are not really a recipe. I have also learned that just because my generation is very familiar with a recipe, it does not mean that the younger generation, or that everyone, is familiar with it.
Today's recipe is for a simple dump cake. Dump cake is not a pretty name for a dessert, but they are called dump cakes because you pretty much just dump everything in the pan. It really is that easy.
I grew up eating various forms of dump cake like peach, cherry, and pumpkin. They are so easy to make because they contain everyday ingredients. They are also usually a very inexpensive dessert to make.
Today's dump cake is a simple Apple Dump Cake. This can be made with a yellow cake mix, a spice cake mix, and even a gluten free yellow cake mix.
Really you cannot go wrong with this recipe.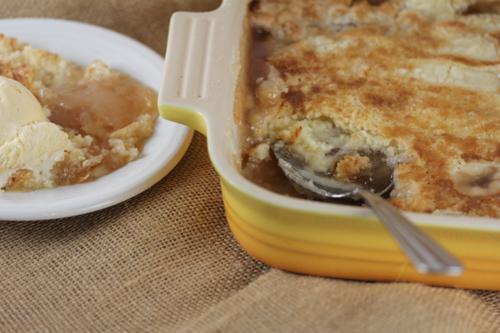 Apple Dump Cake
Ingredients
2 cans




apple pie filling

1




yellow cake mix

1 cup butter




melted
Cooking Directions
Spread apple pie filling in the bottom of a 9×13 pan.
Sprinkle ( or dump) cake mix over the top. You use the dry cake mix here, you do not mix it up into a batter.
Drizzle melted butter over cake mix.
Bake at 350 for about 45 minutes or until the top is lightly browned.
We love this served warm with ice cream or cool whip.