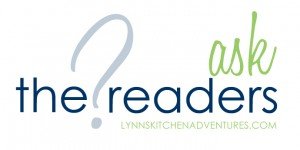 It has been awhile since we did an Ask the Readers question and as I was doing dishes today, I was thinking about cooking and cleaning up. So, I thought I would ask a fun question today to see what kind of a cook and cleaner you are.
When I cook I often make a big mess. At least I think I do. Messes and clutter tend to drive me crazy, so a huge mess to deal with after I am done cooking for the day, drives me crazy. So I end up cleaning and doing dishes as I go. This way the mess gets taken care of gradually instead of all at the end.
However, I know many of you are not like me. Cleaning as you go drives you about as crazy as not cleaning as I go does me. You would much rather clean up the entire mess at the end and see no point and cleaning as you go.
So, that brings me to today's question.
When you are cooking and working in the kitchen, do you clean as you go or do you prefer to leave it all to the end to clean it up?