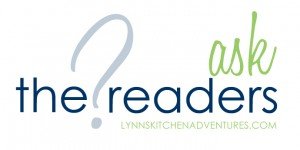 It has been awhile since I did an Ask the Readers post, in fact it has been too long.
You all have so much information to share that I love asking you what you think about a kitchen related topic or question. So, I hope to get back to posting Ask the Readers questions more often after the first of the year.
If you have a question you would like me to feature feel free to fill out the form at the bottom of this post. I would love to share some of your questions.
Now for today's Ask The Readers question and it is perfect for the holidays.
This question was recently asked by Beth on my Facebook page and I did not have a good recipe to give her, so I am hoping some of my readers can help.
Do you have a recipe for eggnog? My husband loves it and every single year he complains after they take it off the shelves. I think he would love it all year long! Thanks.
Can you help Beth out? Do you have a recipe to share?