Have you ever heard of chocolate gravy? It is a popular southern breakfast and I am sharing a gluten free chocolate gravy recipe today. Yes, this southern treat can be made gluten free!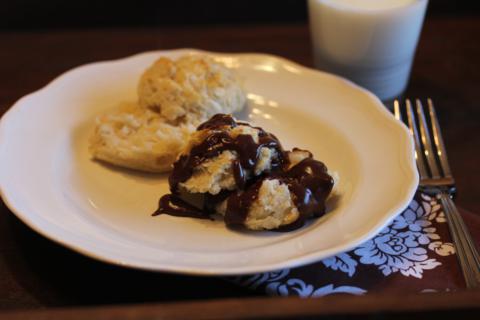 If you are from the south, you have probably had, or at least heard of, chocolate gravy. If you are from the northern or western part of the United States, you have missed out on a true southern treat.
And that is coming from a girl born and raised in Oregon. Chocolate gravy is a southern treat I now love.
So, okay who would not love a warm chocolate sauce type gravy poured over a hot biscuit?!
I actually had not had chocolate gravy until recently and I can't believe it has taken me so long to try it. And my kids, well they loved it.
I will say though that this is more of a special treat type breakfast. It would be perfect for Christmas breakfast, especially if served over my gluten free drop biscuits. In fact, it may just be our Christmas breakfast this year.
All the recipes I have seen for chocolate gravy call for flour, so I ended up adapting a Paula Deen recipe to be gluten free by using cornstarch. I think the cornstarch may change the texture slightly, but not much in this recipe.
My family now has a new favorite special breakfast treat. This is seriously so good!
Gluten Free Chocolate Gravy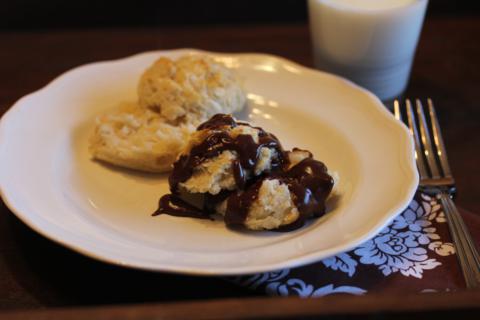 Gluten free chocolate gravy is a southern favorite made gluten free.
Ingredients
2/3 cup sugar
1/2 cup baking cocoa
1 1/2 tablespoons cornstarch
pinch of salt
4 tablespoons butter, melted
2 cups milk
Instructions
In a pan combine sugar, cocoa, cornstarch, and salt.
Whisk in the milk and butter. Continue whisking while cooking over medium high heat. Until mixture is thickened like a gravy. This will take 5 minutes or so.
Serve over gluten free biscuits and enjoy!