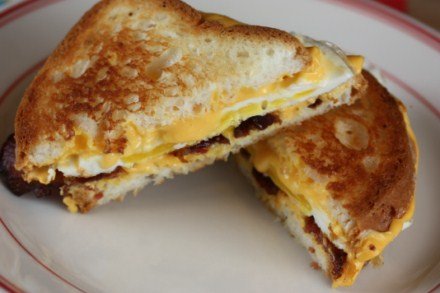 Did you know that April is National Grilled Cheese Month? I love a good grilled cheese sandwich, so this is a food holiday I am all for.
I was recently challenged by Udi's Gluten Free Foods and Horizon Organic Cheese to come up with a grilled cheese sandwich in honor of National Grilled Cheese Month.
I have loved grilled cheese since I was a kid. We ate it often growing up and it has always been one of my favorite sandwiches.
Over the years I have had fun experimenting with all kinds of grilled cheese sandwiches, but my kids like it when I keep it simple, they are kids after all. So, I knew that I wanted to come up with a grilled cheese sandwich that we would all enjoy. I also wanted to make a sandwich that we could eat anytime of day.
If you have read this site for long than you know I love bacon. Bacon makes everything better, including grilled cheese. And I could not think of anything better to go with bacon and cheese than an egg.
So, what do you have when you combine bacon, egg, and cheese on a sandwich? You have a delicious breakfast grilled cheese sandwich.
We think this is perfect not only for breakfast, but for lunch or dinner as well. I don't know about you, but I could eat bacon, egg, and cheese on a grilled cheese sandwich just about anytime of day.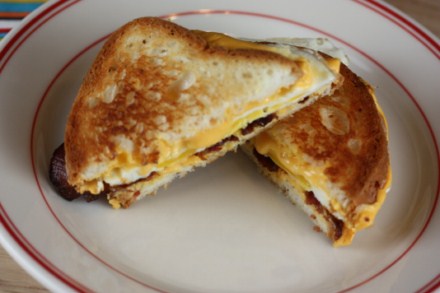 Bacon, Egg, and Cheese Grilled Cheese Sandwich
For 1 Sandwich:
2 slices of Udi's Gluten Free White Sandwich Bread ( Any variety would work, but we like the basic white sandwich bread for this.)
2 slices of bacon that has been cooked
1 fried egg, cooked until the yolk is hard
2 slices of Horizon Organic American Cheese ( You can also use Horizon cheddar cheese, but we like the way American cheese melts.)
butter
Butter one side of each slice of bread.
Place one slice of bread, butter side down on a hot grill or panini press. Place one slice of cheese on the bread.
Place 2 slices of bacon on top of cheese. Then place egg on top of bacon.
Add the last slice of cheese and the second slice of bread with the butter side up.
Cook on medium high heat for 2-3 minutes or until outside of the bread is slightly browned and the cheese is starting to melt.
Carefully flip the sandwich over and cook for 2-4 more minutes or until the second side is done and the cheese is completely melted. (If you are using a panini press you will not need to flip the sandwich.)
Serve and enjoy!
Disclaimer: I was sent the products to come up with this recipe, but my thoughts and opinions are my own.