Need an easy dessert recipe that uses everyday ingredients? Try applesauce cake! It is an old fashioned cake recipe that is just as delicious today as it was when our grandmothers made it.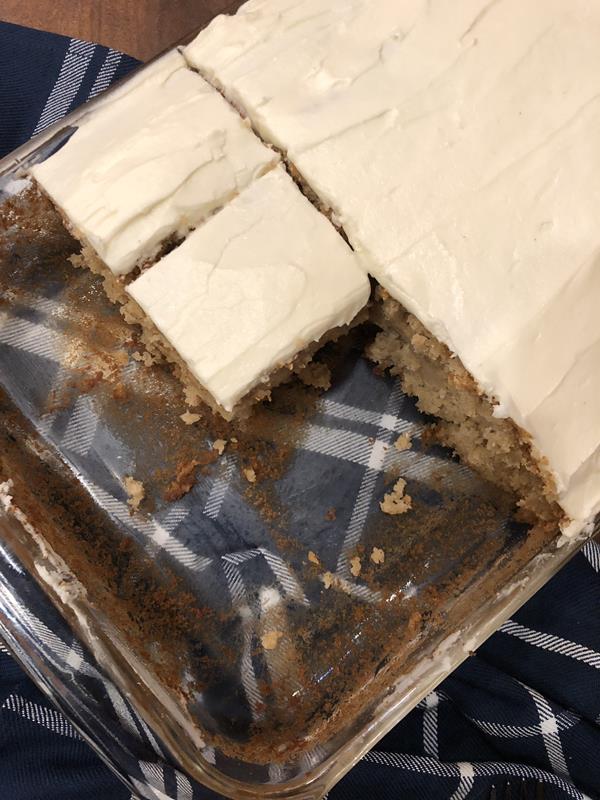 One of my favorite things to do is to look through old cookbooks. Some of the recipes like Jello salads and casseroles with crazy ingredients are fun to read about.
You really have to wonder how many people actually made and ate some of the recipes. Many of the recipe though are basic recipes that call for inexpensive ingredients. Those are the recipes that I love the most.
Many of the older recipes are basic recipes with ingredients that people almost always have on hand. We can learn a lot from previous generations of cooks.
I can do without all the strange Jello recipes, but I think we can all use more easy recipes that use simple ingredients. They knew how to cook with what the had on hand and what they could afford.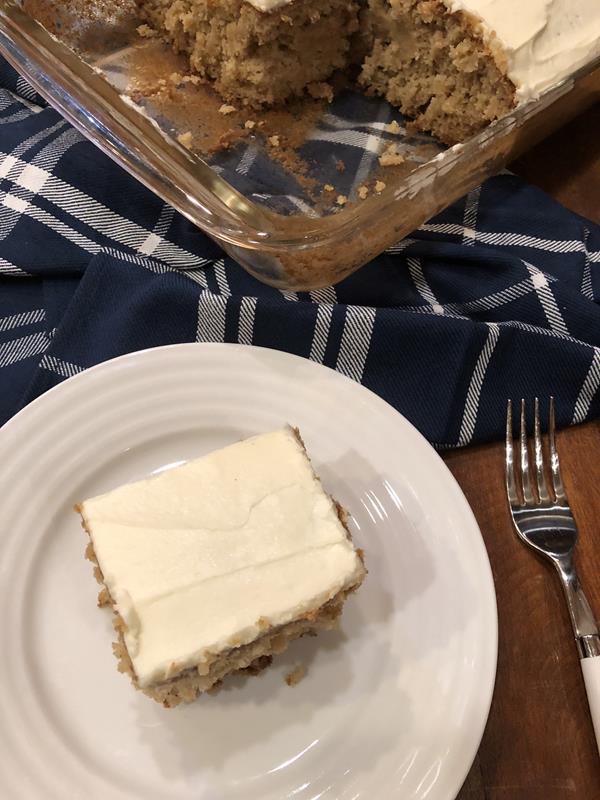 This recipe for applesauce is an example of that. Applesauce cake is a dessert that many of our mothers and grandmothers used to make.
Applesauce cake calls for ingredients you always have on hand like sugar, oil, flour, applesauce, and eggs. Those are things most of us keep in kitchen all the time. Applesauce cake is a recipe that you can make without going to the store for special ingredients.
A lot of people have forgotten about applesauce cake because it is such a simple cake. It is not fancy, but it is so good. I think we need to start bringing back some of the older basic desserts and recipes like this one.
I love to frost my applesauce cake with either a basic butter frosting or a cream cheese frosting. Frosting makes applesauce cake even better, but you don't have to frost it. It is delicious on it's own.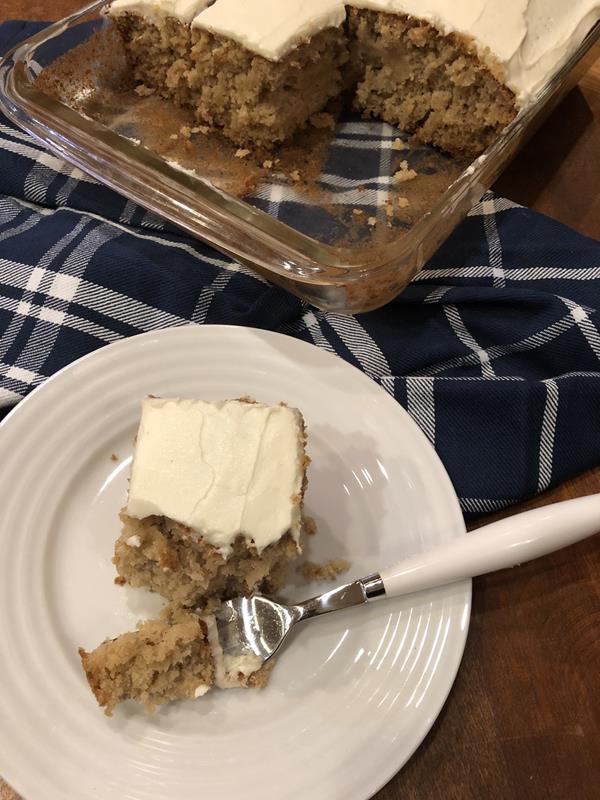 Can I make applesauce cake gluten free?
Yes, I make this gluten free all the time. The easiest way to make it gluten free is to use Bob's Red Mill 1 to 1 gluten free baking flour.
Can I make a dairy free applesauce cake?
The cake recipe is easy to make dairy free. The recipe uses oil, not butter, so that part is easy. For the milk use a diary free milk like coconut milk. For the frosting you can either leave it off or use a dairy free frosting.
Need more simple old fashioned recipes?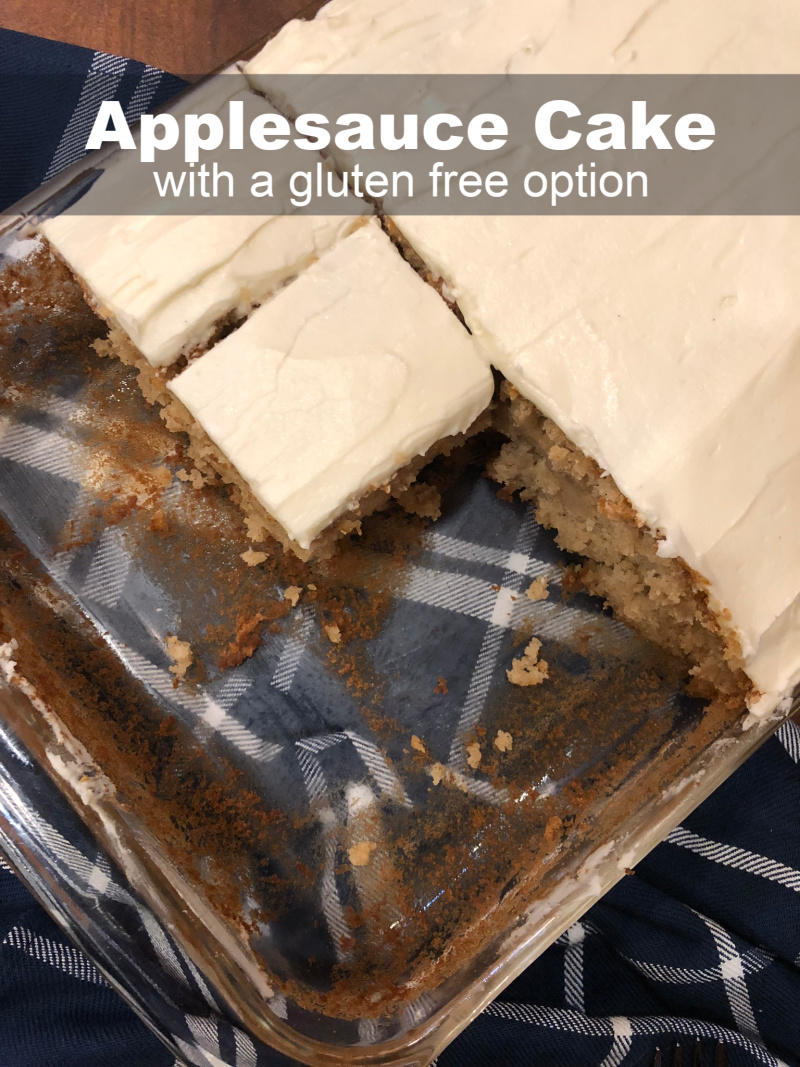 Applesauce Cake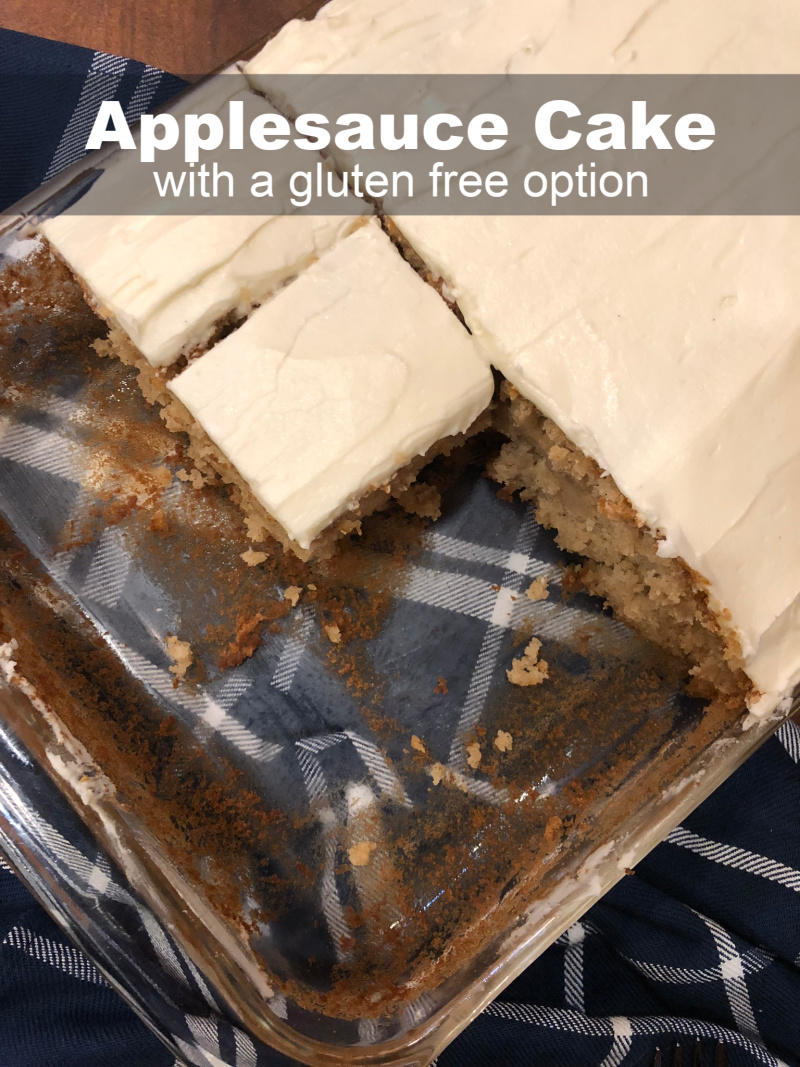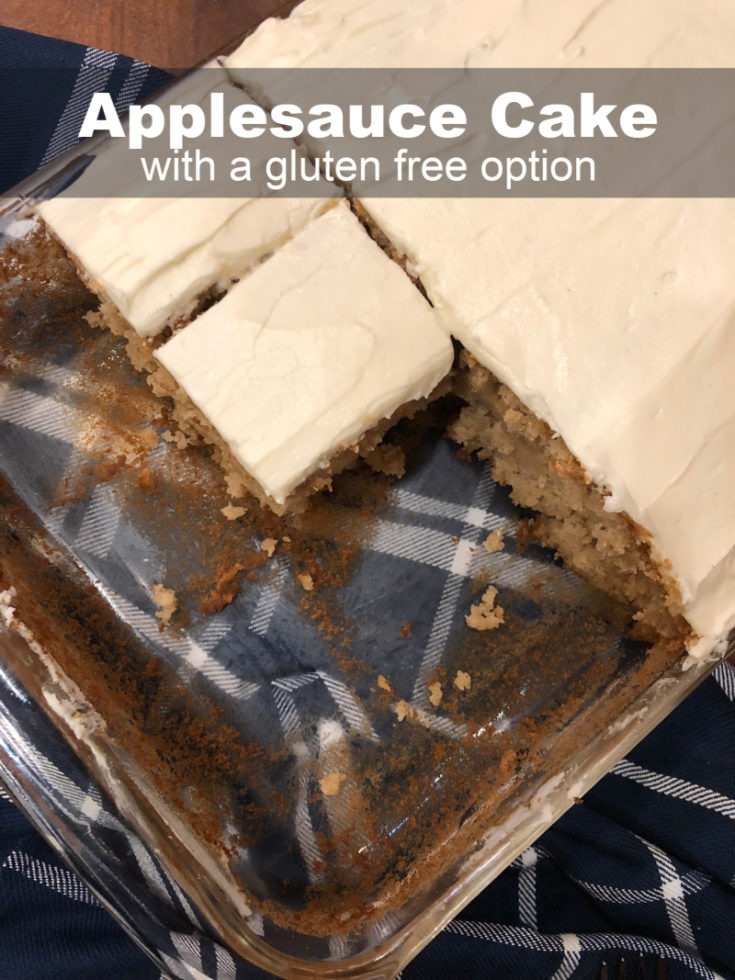 Applesauce cake is an easy old fashioned dessert!
Ingredients
Cake Recipe
2 1/2 cups applesauce, unsweetened
2 cups white sugar
1 cup vegetable oil
4 eggs
6 tablespoons milk
4 cups all purpose flour ( use Bob's Red Mill 1 to 1 Gluten Free Flour blend for a gluten free version)
2 teaspoons baking soda
1 teaspoon baking powder
1 teaspoon ground cinnamon
1/2 teaspoon salt
Frosting Recipe
1/3 cup butter, softened
3 cups powdered sugar
2 teaspoons vanilla
2-3 tablespoons milk
Instructions
Preheat oven to 350 degrees. Lightly grease a 9x13 pan.
In a large bowl, combine the applesauce, sugar, oil, eggs and milk mix until well combined.
Stir in the flour, baking soda, baking powder, cinnamon, and salt. Stir until smooth.
Pour batter into prepared cake pan.
Bake in preheated oven for 40-45 minutes, or until a toothpick inserted into center of the cake comes out clean.
Let cake cool completely.
While cake is cooling make frosting.
To make frosting place butter and 1 1/2 cups powdered sugar in a mixing bowl. Mix until well combined and smooth. Slowly add remaining powdered sugar. Add vanilla and 2 tablespoons milk. Mix until smooth. Add a little more milk if needed for desired consistency for spreading on cake.
Frost the cake once it is completely cooled.
Cut into pieces and enjoy!
Notes
This recipe can be cut in half and baked in an 8x8 pan. Reduce cooking time to 35-38 minutes. It can also be baked in two round pans and made into a layer cake.
This cake can also be made dairy free by using a dairy free milk like coconut milk in place of the milk in the cake batter and by leaving off the frosting or by using a diary free frosting.
If you use sweetened applesauce you might want to decrease the amount of sugar.