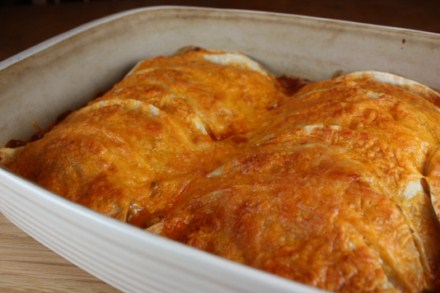 I miss flour tortillas. Well okay I do not miss the flour in the tortillas, but I miss how nice and pretty my enchiladas looked when using flour tortillas.
In my opinion corn tortillas just are not the same. Yes, they taste good, but they are much more challenging to work with and I often end up with a big mess. Because of this I have found it much easier to just make enchilada pies by just layering the ingredients, but my family does not like enchilada pie as well as enchiladas.
Yes, I know I can fry the tortillas, and it would make them more flexible, but I avoid frying foods unless I really need to, and  I don't usually have the time to fry the tortillas when making dinner.
I recently discovered something that worked so well for making enchiladas with corn tortillas. Forget the rolling of the shells, just fold it over.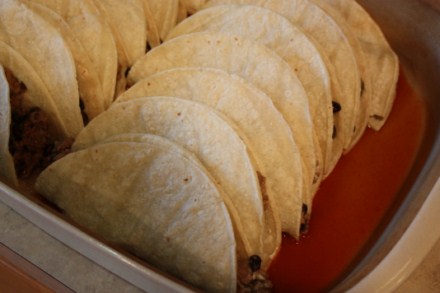 Place the filling on half the shell, fold the shell over, and place in the pan.
See it is so much easier and prettier isn't it?
This works perfectly with either my beef or chicken enchiladas.