Fold Over Enchiladas could also be called lazy enchiladas.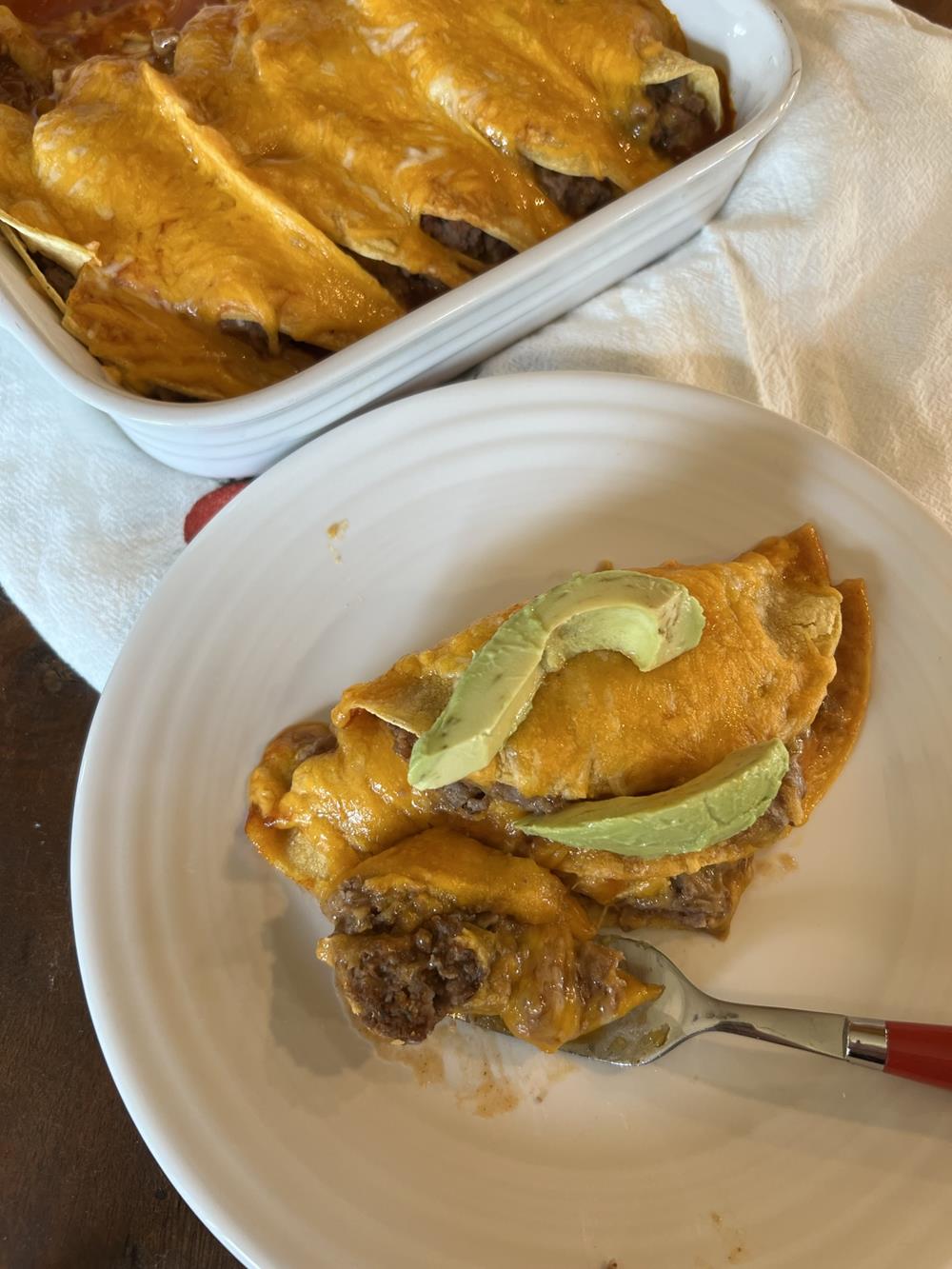 I am going to start by saying these are not authentic enchiladas, but they are an easy and delicious dinner that uses ingredients you probably have on hand.
When I went gluten free back in 2009, there were not the options available that there are now. Gluten free tortillas were almost impossible to find, so the only option for me was corn tortillas.
I missed flour tortillas. I missed the taste of them, but I also missed how easy it was to make enchiladas and burritos with them. Flour tortillas just roll up better.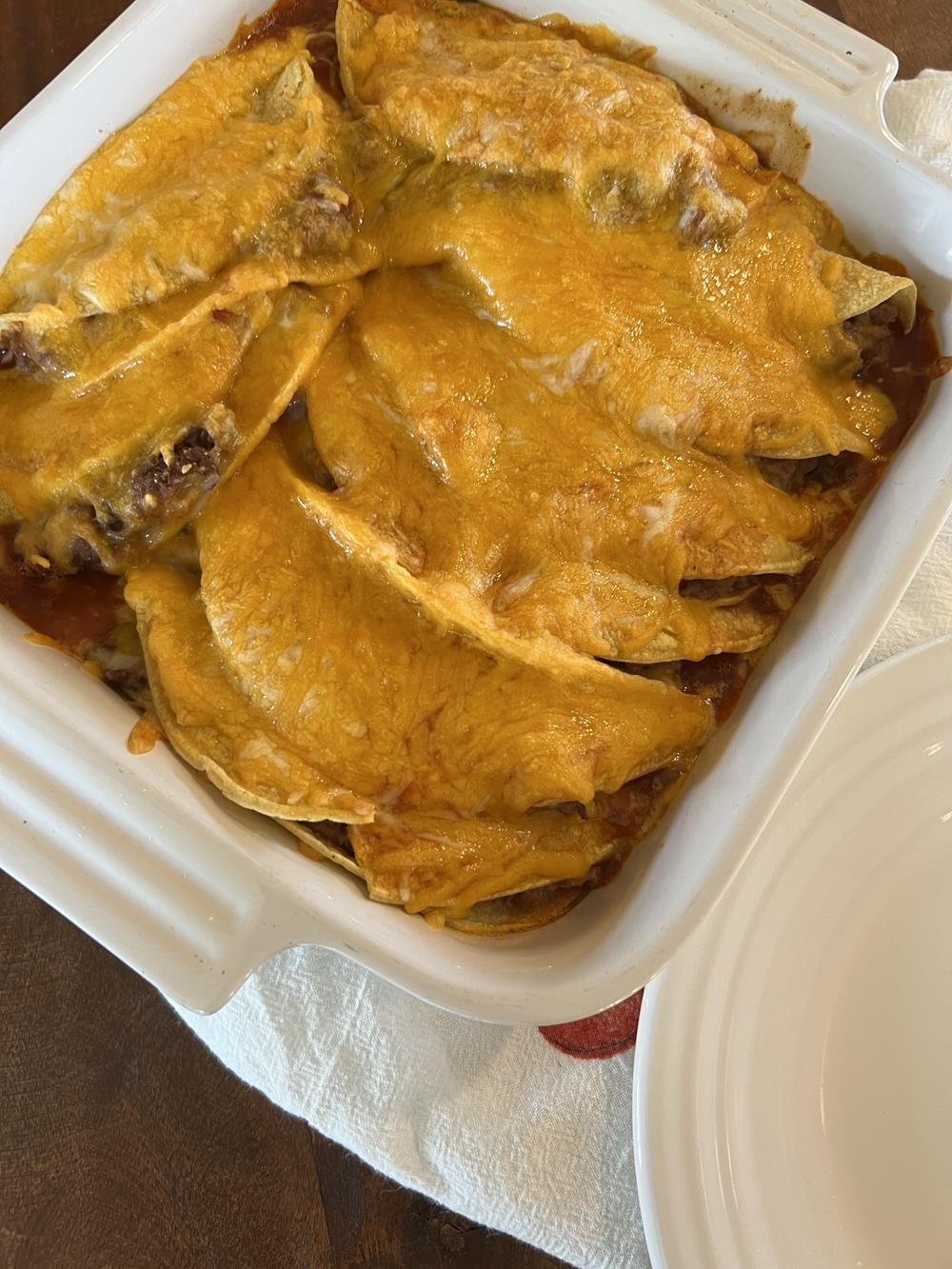 Corn tortillas were just not the same. Yes, they taste good, but they are much more challenging to work with and I often ended up with a big mess.
Because of this, I have found it easier to make enchilada pies by just layering the ingredients in a stack. My family however did not like enchilada pie as well as enchiladas. They wanted something that more resembled enchiladas.
Yes, I know you can fry the tortillas, that is the authentic way to make them, and they roll much better, but sometimes, you just need quick and easy. I don't always have time to make real authentic enchiladas.
Instead of taking time to fry the tortillas and instead of creating a big mess by trying to roll corn tortillas without heating them, I discovered that I could just fold them over.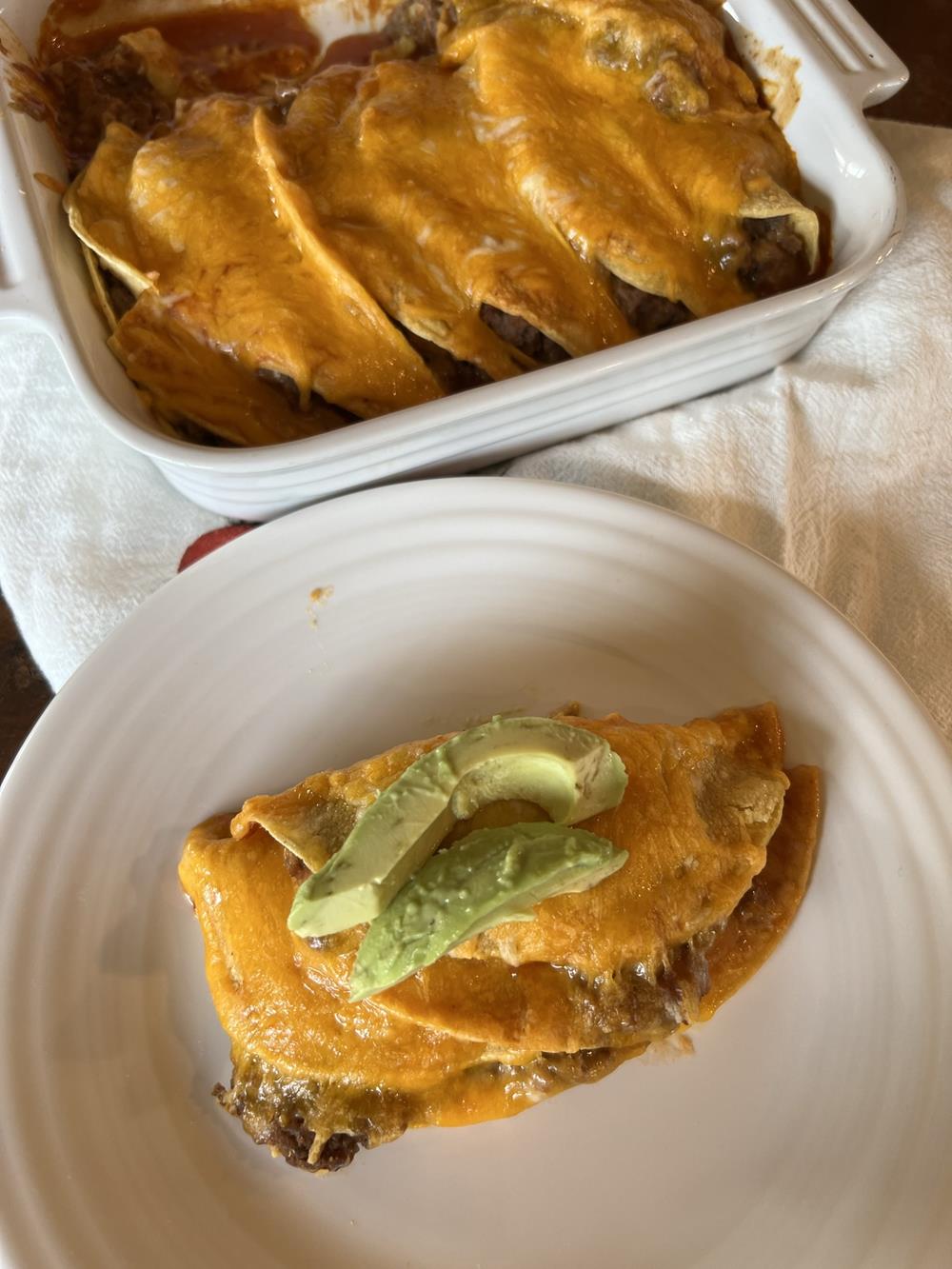 Yes, my way is the lazy way, but I just forget the rolling of the shells and fold them over in the pan.
Fold over enchiladas may not be authentic, but they are quick and easy to make.
It is much easier now to find gluten free tortillas, I can find several brands at the store and my local small town Wal-mart even carries them.
However, they are expensive. With grocery prices on the rise, I am finding myself grabbing corn tortillas more and more because they are the cheapest gluten free tortilla to buy.
You don't have to be gluten free to enjoy the convenience of fold over enchiladas. If you want quick and easy enchiladas, give this method of making them a try.
How To Make Them
The exact recipe is below, but you really don't need a recipe. This is more of a technique that will work with just about any enchilada filling.
You basically just place the filling on half of the corn tortilla shell, fold them in half, and place in the pan.
Spread with sauce and cheese.
Bake and enjoy.
Ingredients
For these enchiladas you need tortillas, I use corn, cheese, and enchilada sauce. Feel free to add meat, vegetables, or whatever else you like in your enchiladas.
Place the filling on half the shell, fold the shell over, and place in the pan.
See it is so much easier and prettier isn't it?
This works perfectly with either my ground beef enchiladas, three cheese beef, chicken enchiladas, or beef and bean enchiladas.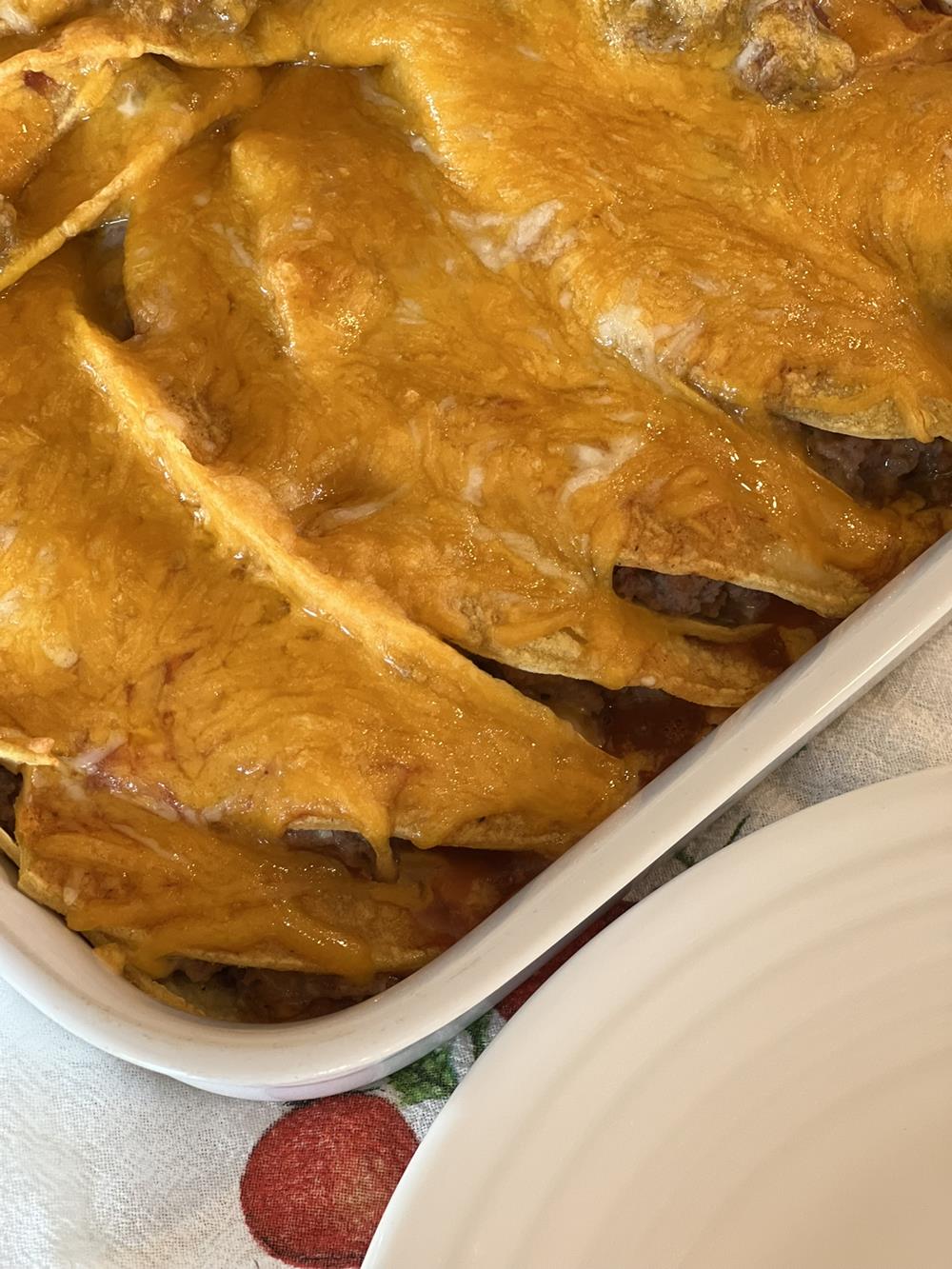 Yield: 6 servings
Fold Over Enchiladas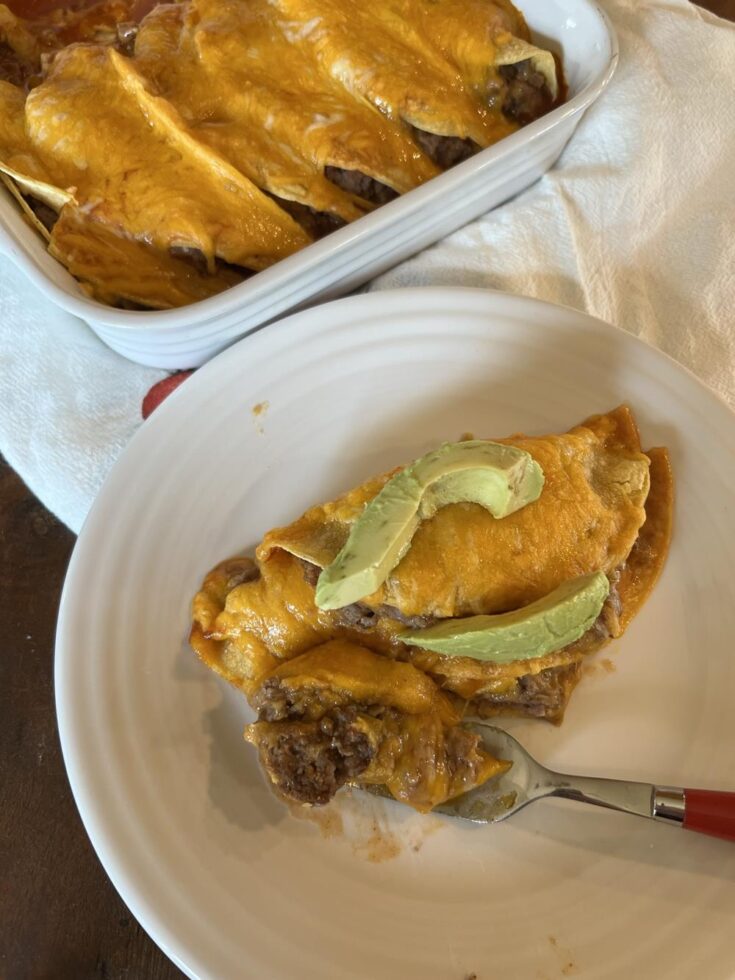 Enchiladas made the easy way!
Ingredients
12 corn tortillas
3 cups shredded cheese
10 ounces enchilada sauce, use gluten free enchilada sauce for gluten free version.
optional - 2 cups cooked ground beef ( or other cooked meat )
Instructions
Preheat oven to 350 degrees.
Spread 1/2 cup enchilada sauce in the bottom of a 9x3 pan or similar sized casserole dish.
Place a little cheese and cooked meat if using, on one half of each tortilla. Fold tortilla in half and place in pan.
Spread remaining enchilia sauce over top. Sprinkle with more cheese if desired.
Bake for 20 minutes or until cheese is melted and heated through.
Notes
You do not have to use this exact recipe. This is more of a technique than a recipe. It works with just about any enchilada filling.
Nutrition Information:
Yield:
6
Serving Size:
1
Amount Per Serving:
Calories:

561
Total Fat:

33g
Saturated Fat:

16g
Trans Fat:

1g
Unsaturated Fat:

13g
Cholesterol:

123mg
Sodium:

956mg
Carbohydrates:

28g
Fiber:

4g
Sugar:

5g
Protein:

37g
Nutritional values are approximate and aren't always accurate.
Originally posted October 2010. Updated May 2022.